Finally Teammates
Football at Stanford puts Scarlett brothers on same team
Paul Marshall | 9/15/2015, 2:29 p.m. | Updated on 9/16/2015, 9:35 a.m.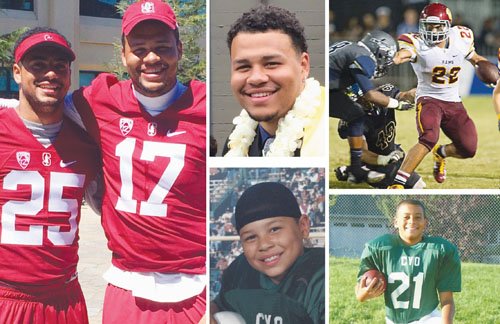 Getting a masters' was a goal of mine. I looked for my masters program but I didn't find it at Cal", he says.
Injuries would befall both brothers as they looked to finish their college and high school careers respectively. While both players remained intent on returning to the field in full form, their careers paths would soon intersect as Brennan looked for a graduate program and Cameron decided on which college he would attend out of high school.
"When I was getting recruited by Stanford, some of the coaches threw out the idea of me and Brennan playing together in conversation. After a few talks, I mentioned to Brennan about getting a graduate degree at Stanford," Cameron said. "It's the best place to get a graduate degree."
After mulling over scholarship offers, Cameron committed to Stanford, and Brennan was accepted into Stanford's graduate program in management, science and engineering. Although this was not the first time that members of the same family would suit up at Palo Alto, the union by the brothers would bring a historic first in Stanford's program.
"Brennan is the first graduate transfer in the history of Stanford's football program," Alan George the director of athletic communications confirmed via email.
Despite all the accomplishments, the success of the Scarlett brothers has been forged upon the strength of their relationship to family.
"Family is going to be there for you… We've always been big on being there for our kids," said their father Paul Scarlett, who is employed in Portland as director of the Bureau of Development Services.
A recent demonstration of that family presence was witnessed at Grant High School in June when the elder Scarlett, who also coaches track at Central Catholic, led his sons in a workout.
For Brennan and Cameron, their tenure as teammates will only last for a season at Stanford but the experience as players on the same team will remain a standout moment in their lives.
"Kids dream about it (playing with your brother) but I value this experience," says Cameron Scarlett.
---
Paul Marshall II is a graduate of the University of Oregon's Professional Master's program. His relationship with the Scarlett family dates back to the 2000s when he attended Holy Redeemer Catholic School in north Portland with both Brennan and Cameron.