Police Filmer Files Federal Lawsuit
Man was arrested during Ferguson rally
9/15/2015, 3:39 p.m.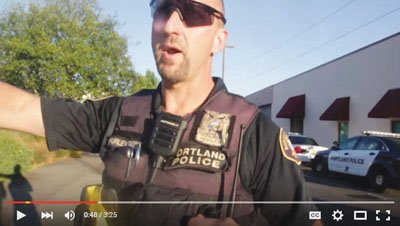 A man who films the police has filed a federal lawsuit against the Portland Police Bureau and the city alleging that he was unfairly arrested for filming officers during a protest last fall at a Ferguson solidarity rally.
Robert Lee West, a Portland activist known for filming police and running filmthepolice911.com, argues that Portland police violated his First Amendment rights protecting the freedom of the press and freedom of assembly, assaulted him through the use of a flash bang grenade thrown in his direction, and falsely arrested him for disorderly conduct and deprived him of water upon his arrest.
The demonstration occurred last November when a grand jury decided not to indict Officer Darren Wilson in the fatal shooting of an unarmed black teen in Ferguson, Mo.
West claims his camera was focused on police actions, and while doing so, officers threw the "flash bang" grenade within inches of him, dispersing a large crowd. West was then arrested along with other protesters and accused of disorderly conduct, but had the charges dismissed in December.
When he was arrested, West alleges that he informed officers of pre-existing health problems and requested water as he felt light-headed and had a headache. When he was taken to the East Precinct, West claims he suffered dizziness and an elevated pulse and blood pressure.
After two hours in custody, police gave West a citation, after which he was transported by ambulance and received medical care at Legacy Emanuel Medical Center. The suit reports that West was then diagnosed with hypertension, dehydration, and dizziness. West wants the city of Portland to cover his $4,823 in medical bills and $5,178 in non-economic damages for his pain and emotional suffering.