'Bridge of the People" Lights Up
The science behind Tilikum's expressive lights
9/16/2015, 1:55 p.m.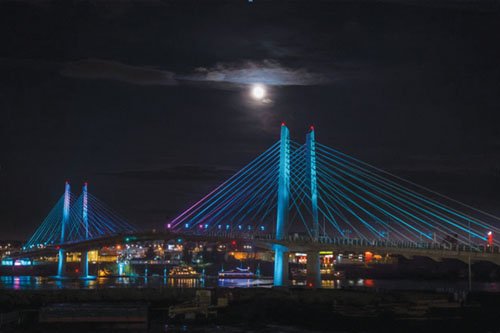 The Tilikum Crossing Bridge of the People was permanently lit on Thursday night as thousands of residents celebrated and looked on from Zidell Yards, downtown.
Portland's newest bridge over the Willamette River brightens the city's nighttime skyline with its aesthetic light program permanently switched on.
The bridge lighting is an artistic blend of art and science using U.S. Geological Survey water-quality and stream flow data collected from the river downstream. The colors change based on climate and the river's water temperature, height and speed.
The data is translated by specialized software and displayed along the cables and pillars of the new bridge using LED lights. According to TriMet, there are 178 LED lights aesthetically placed on 40 bridge cables, the four transmission towers above and below the deck, and on the Sonic Dish artwork along the Eastside Esplanade and future Willamette Greenway at the ends of the bridge.
The river water's temperature determines the base color, the river's speed controls the pace the colors change and move across the bridge, and the river's height is displayed by a second color that moves vertically up and down the towers and the cables.
Together, these data streams give a comprehensive, real-time picture of hydrologic conditions in the Willamette River, providing important information for regulatory agencies, resource managers, fishermen, recreationists and the public in their protection, stewardship, use and enjoyment of our hometown river.