Obo Addy CD Finally Ready
9/16/2015, 3:45 p.m.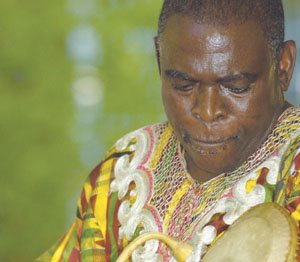 Friends and family of the late Portland resident and African musician Obo Addy are celebrating the release of a new "Best of Obo Addy" CD.
Five years in the making, the album comes three years after Addy's death at the age of 76.
A native of Ghana, Addy compiled many songs that had previously been recorded and changed the arrangements in addition to new songs. He worked at Falcon Studios in north Portland and then took the tracks to Ghana to add additional vocals and a rapper from the Ga culture. The CD is an enjoyable blend of old and new, including some of Obo's most popular songs.
A CD release party was held on Sunday at Vie De Boheme hosted by the Obo Addy Legacy Project whose mission is to celebrate cultural diversity by bringing authentic African rhythms and traditions to stages, schools, and communities of the world.
Carrying forth Addy's teaching methods, the group uses music to empower youth to have a global understanding of oral expression and imagine themselves as creative rhythm makers.
The "Best of Obo Addy" cd can also be purchased from cdbaby.com.