Williams gets Miss America Apology
9/16/2015, 3:15 p.m.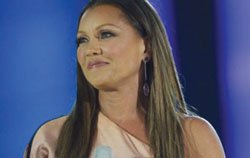 (AP) – Controversy forced her to give up the crown 32 years ago, but Vanessa Williams got her moment of redemption Sunday night.
Sam Haskell, executive chairman of the Miss America pageant, apologized to the entertainer for the way the pageant's predecessors handled a controversy involving nude photos of Williams that were published in Penthouse after she became the first African-American Miss America. Williams resigned the title in 1984.
Haskell, who was not involved with the pageant at the time, said, "I want to apologize for anything that was said or done" during the photo scandal. "Vanessa: Welcome back!"
Williams, who went on to become a famous singer and stage and TV actress, said from the stage she "did the best I could" during the scandal.
Meeting with reporters after the pageant, Williams lavishly praised the new Miss America, Miss Georgia Betty Cantrell, then reflected briefly on her own short reign as Miss America.
"I want to thank everyone who has come up to me over the past 32 years and said, 'You'll always be my Miss America,'" Williams said. "I got a chance to be on the stage and represent what I represented back in 1984. Thank you so much for being so welcoming to me."