In Loving Memory
Byron DeWayne Watterson
9/22/2015, 1:36 p.m.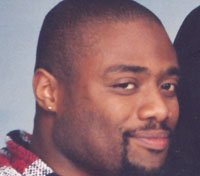 A memorial service for Byron DeWayne Watterson will be held Saturday, Sept. 26 at 1 p.m. at Bethel AME Church, 5828 N.E. Eighth Ave.
He was born April 19, 1970 to Charles R. Watterson and Judy Woods. Known by the family as DeWayne or Wayne, he decided to come into this world three months prior to his due date. He weighed three pounds and stopped breathing three times due to underdeveloped lungs. Despite the doctor's prognosis that he probably would not survive, God intervened. In adult life he survived a battle of tonsil cancer. Again God prevailed.
Although he was diagnosed with asthma, he lead a life full of activities, playing baseball for the Peninsula Little League, football at Grant High School and coaching tee-ball for his son's team.
He enjoyed playing chess, dominoes and several card games. The San Francisco 49ers was his favorite time. He had a melodic voice which allowed him to participate in a singing group. He performed a solo at the wedding of his son's half-sister.
He accepted the Lord at an early age and was baptized at Bethel A.M.E. Church. He was in attendance at Bethel two weeks prior to being called home.
His brother and sister always looked up to him as a leader and as a positive role model. He was a loving father and provided financial and spiritual support to his only son, Brandon. He worked diligently at several jobs, most recently the US Postal Service.
An automobile accident resulted in DeWayne being called home on Aug. 19, 2015. He was preceded in death by his grandfather, William H. Woods Sr.
He leaves to mourn and cherish his memory, his parents Judy Wilson (Larry, stepfather) and Charles Watterson; son, Brandon Maxwell Watterson; brother, Raymond Watterson; sister, Myesha Daugherty (Thomas) and half-sister Katrice Wilson; grandmother, Cledie Woods; aunts, Phillis Pace, Daphne Barnes, and Margot Woods; uncles, William Woods Jr. (Saundra), Clarence Woods Sr. (Yvonne), Korla Woods, Leonardo Woods, and Frederico Rendon (Michelle); and a host of nieces, nephews, cousins and extended family members and friends.