Triumphant Return to Stage
9/22/2015, 1:39 p.m.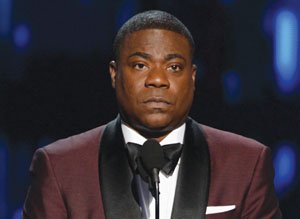 (AP) - Tracy Morgan made a triumphant return to the Emmy Awards on Sunday, telling TV's biggest stars and power players that he had missed them after spending months recovering from a traumatic brain injury.
Morgan's presentation of the night's final award was one of the ceremony's biggest moments and the culmination of months of rehabilitation and work by the comedian.
"Thank you so much," Morgan told the crowd boisterously cheering his return. "I miss you guys so much."
He referenced words from Jimmy Kimmel, who told last year's audience that Morgan would return.
Morgan said, "Well, Jimmy, thanks to my amazing doctors, the support of my family and my beautiful new wife, I'm here. Standing on my own two feet."
Morgan was seriously injured on June 7, 2014, when a Wal-Mart truck crashed into the limousine Morgan was riding in. The collision killed one of Morgan's close friends.