Made By Nilina
Passion for creating turns into business
9/28/2015, 5:14 p.m.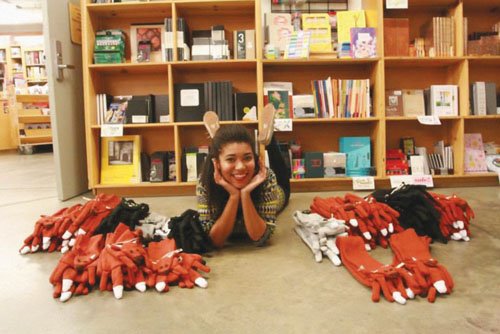 Young craft artist and designer Nilina Mason-Campbell has become one of Portland's most iconic goodie-makers. Her unique animal scarves and Portland-themed buttons, magnets, and postcards can be found across town in boutiques and shops including Queen Bee, Reading Frenzy, the Black Wagon on Mississippi, the Arrangement and Paper Jam on Fremont, Memento on Hawthorne, and Music Millennium on Burnside. Nilina has a passion for representing the city in her artwork and her wares are popular among tourists and locals alike.
Besides her love for creating beautiful small goods, the 29-year-old Lincoln High School graduate also has a passion for photography. She has worked for Rolling Stone magazine shooting the South by Southwest music festival in Austin, Texas, and has also covered Fashion Week in New York for Gawkers. She is a regular at the Multnomah County Fair and has been an active traveler the past few years.
Looking for one of her iconic Portland tote bags or fox-shaped scarves to kick off the beginning of fall and back to school?
Check out her at around at any of the numerous stores listed above, or visit her personal shop at etsy.com/shop/Nilina.