Business Professional Finds a Niche
Mobile fitness training for people on the go
9/29/2015, 12:33 p.m.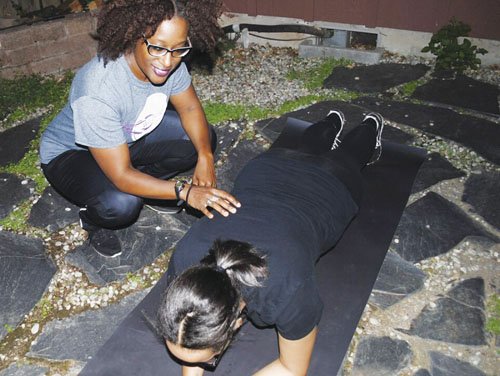 A mobile fitness training and lifestyle coaching company is reaching out to change how people think about health and exercise. Established in 2003 by owner and
fitness professional Tami Williams, Wildfire Fitness focuses on helping clients to adopt
healthy habits and lifestyle goals while eliminating the need to sign up for a gym membership.
"Even at a young age I knew that I wanted to own a business," Williams says, "though I had no idea it would be in fitness."
Williams began her career in accounting and while working as a bookkeeper she began teaching fitness classes on the side for fun, but it wasn't long before participants began asking her to train with them privately.
Soon she had to make a choice due to the demand and found that she had a knack and a passion for helping people learn to move and live better. She then became a certified personal trainer and began teaching classes in gyms around the Portland area.
She later earned a degree from Pacific University and formed her own company to provide unique fitness solutions for people from many walks of life, including amateur athletes, business owners, professionals, and stay-at-home moms.
Since its beginnings, Wildfire Fitness has thrived by bringing services to their clients' doors, whether they are at home, at the office, or even outside in local parks and outdoor spaces.
"We are a society of busy people. A lack of time is one of the most cited reasons why people don't exercise
regularly and getting to the gym is a real challenge for some," says 
Williams. "Knowing that your trainer is showing up at your door with everything you need for your workout, however, raises the
accountability as well as the opportunity for success because you can get
in, set your goals, get your workout, and get on with your day."
Another key to their success is that Wildfire Fitness doesn't focus on short-term fixes. Instead, it focuses on building a base for long-term results.
"Not everyone wants to train for sports or wants to stroll around in a bikini," says Williams. "If a client has that goal, we can
certainly help them achieve that, but some clients just want to be
able to hike or play weekend ball with their friends or keep up with
their kids, or feel better in their own skin. It's important to us that we help each client learn what they can do to live and be the best version of themselves."
In addition to mobile fitness training, Wildfire Fitness offers small group training classes, workplace fitness, wellness classes and online training. To schedule a free consultation or learn more, visit wildfirefitness.com or call 971-295-7555.