Chefs Grow Popular Restaurant
Putting down roots at Vanport Square
9/29/2015, 3:42 p.m.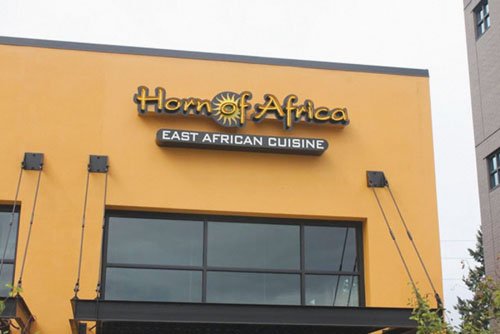 An African immigrant couple is bringing generations of experience in cooking East African cuisine to Portland food-lovers. Horn of Africa owner-chefs Khadija and Mohamed serve traditional cuisines of Ethiopia, Somalia, Djbouti and the Middle East every day at their restaurant in the Vanport Square shopping complex in northeast Portland.
Horn of Africa began in 1994 as a booth at downtown's Saturday Market, but the story of how it came to be starts much earlier.
In the 1980s, Mohamed fled civil war in Ethiopia and ended up in a Sudanese refugee camp. He was fortunate enough to receive a United Nations scholarship, allowing him to study English and business in Cairo.
After marrying Khadija, Mohamed immigrated to California, while his wife remained behind, working as a chef to foreign diplomats. Eventually Mohamed saved enough to bring Khadija to the United States. After visiting family in Portland, the young couple decided to put down roots and open their Saturday Market kitchen.
After the food booth garnered loyal followers and great reviews from press and patrons, a formal restaurant became the couple's next goal. In 2007, Mohamed and Khadija opened up at their current location, 5237 N.E. Martin Luther King Jr. Blvd. The restaurant is open for lunch and dinner six days a week, closed Sundays, and orders can be called in at 503-331-9844. To learn more, visit hornofafrica.net.