Feeling the Punch
Working class upheaval on the Ashland stage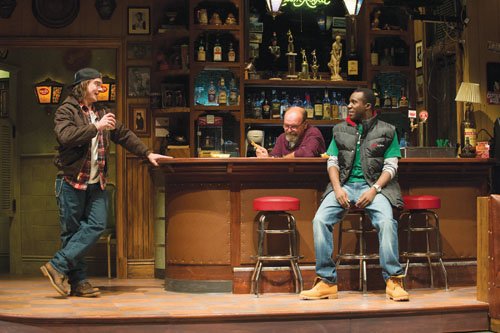 One of the things I most appreciate about this play is that the characters occupy no one position. Too often in films and television and theater, working class people aren't portrayed with much complexity; not so here. For example, several white and black characters all have (or had) union jobs, yet the white characters speak with a sense of entitlement that the black characters don't quite share. All of them talk as though their union card is the ticket to their American dreams, yet the black characters speak as later entrants into that club; they are still aspiring, looking for ways to climb, or exploring other options. The characters also vary in their reactions to the loss of their hopes. And none of them notice that the American-born son of Dominican parents who cleans up after them at the bar they frequent can't break into the union no matter how hard he tries.
As the world of the union workers begins to crumble, we see how easily they can be pitted against each other. Their anger and powerlessness quickly becomes anger at one another; with no agency and no access to the real decision makers, they blame each other for betrayals that are varying degrees of real and imagined. These are folks we might recognize, good people struggling under extreme pressure. Their anger and fear is understandable and sympathetic, even if their responses to one another are far from heroic.
The reality for all these characters is messy. I must admit that I had not focused on the specifics that this play brings to light; the characters go from being able to save for a very nice vacation to working multiple menial jobs in order to pay the rent in a slum or falling into addiction. The uniformly excellent cast makes you live in the skin of these characters, and conveys a real sense of how quickly and cataclysmically their worlds shifted -- showing up to work to find that the machines have been sold; lockouts that lasted for endless months; contract offers involving paycuts as high as 60 percent; the pressures that lead a person to cross a union picket line.

This is not territory well-covered in American theater, and OSF is capitalizing on the opportunities for dialogue that this play presents with its "Living Ideas" series of discussions, some of which can be accessed online. (www.osfashland.org/experience-osf/upcoming/living-ideas.aspx.) Whether or not you join in on those conversations, this is a play to watch. It is playing in Ashland until the end of October, and then moving to Arena Stage in Washington, DC. I expect the play will live on, and will bring needed attention to the lives of many whose experience of the knife edge of what we term progress tends to be ignored.
Darleen Ortega is a judge on the Oregon Court of Appeals and the first woman of color to serve in that capacity. She also serves on the Oregon Shakespeare Festival Board. Her movie review column Opinionated Judge appears regularly in The Portland Observer. Find her movie blog at opinionatedjudge.blogspot.com.