Giving Back to His Community
Attorney named to advise Metro on visitor venues
9/29/2015, 2:39 p.m.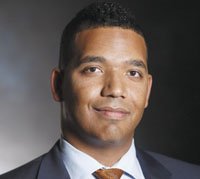 A young African-American attorney who gives back to his community has been named to the Metro Recreation Exposition Commission (MERC), the volunteer board that advises three of the region's visitor venues, the Oregon Convention Center, Portland Expo Center and Portland'5 Centers for the Arts.
Damien R. Hall is an associate at the Portland-based law firm, Ball Janik where he is the real estate and land use practice group leader, representing both property owners and local governments.
He also serves on the governing boards for Home Forward, the housing authority for Multnomah County; Portland Community Reinvestment Initiatives, Inc. (PCRI), an affordable housing provider; and CareOregon, a provider of health care for low-income Oregonians.
Hall is also a member of the Portland Development Commission's Central City Budget Advisory Committee and serves as a member of the Young Leaders Group of the Urban Land Institute and the Oregon Chapter of the National Association of Industrial and Office Properties.
He is pro bono counsel to the non-profit Verde, Inc., advising the group in its "Let Us Build Cully Park!" and "Let Us Buy the Sugar Shack!" campaigns to improve livability and prevent displacement in the Cully Neighborhood of northeast Portland.
"I can't think of a more talented individual to serve on MERC," said Metro Council president Tom Hughes. "We are incredibly fortunate to benefit from his expertise, knowledge and commitment to public service." he added.