Opportunity Knocks
Food cart owners make business splash
Mike Bivins | 9/29/2015, 2:33 p.m.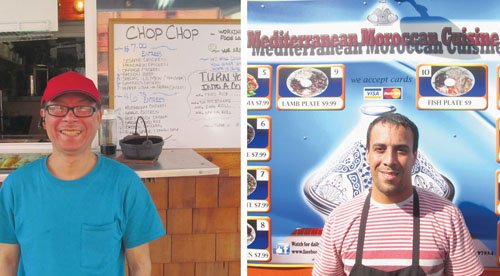 Portland's food carts have drawn rave reviews and according to CNN lay claim to the title of "World's best street food." But the scores of food carts do not just offer some of the best food anywhere — they often serve as stepping stones to other opportunities for their owners.
The power of economics on a small scale is evident at the Central Eastside Food Carts pod at 510 S.E. Martin Luther King Jr. Blvd. where the owners of Chop Chop, Mediterranean Moroccan Cuisine and Sila Thai have found success.
Mouhcine Cherkou, 35, opened Mediterranean Moroccan Cuisines after emigrating from Morocco in 2009 and describes coming to the United States as "the American Dream." Cherkou says he had no fear joining the local food cart industry. He previously managed the kitchen at the Ristorante Roma.
"If you have skills and can cook really good you are going to be okay," Cherkou says.
Sila Thai's owners Jonathan Owens and his wife Moon Yodthaisong-Owens are a tag-team duo.
All of the foods at Sila Thai are "my wife's creations." Owens says. "She's very particular and meticulous when it comes to each individual dish [and] she makes very few things in bulk."
Owens says the food cart is doing good, bringing in the cash needed to pay the bills and even save a couple of dollars. The couple looks to eventually move up to a "brick and mortar" business.
Chop Chop's owner Wing Fei Lee is a 56-year-old Hong Kong native who has lived in Oregon for the past 30 years. He was thinking about opening a food cart 15 years before they became so popular, but he doesn't see a restaurant in the cards as his next business opportunity.
A top notch exhaust fan could run you $15,000, Lee warns. And a walk in freezer to keep perishables fresh could set you back another $5,000 to $10,000, he says.
Instead, Lee, says he makes a hot sauce that his customers really enjoy and that he is "looking to bottle it and sell it down the road."
"I'm confident that when the time comes I can bottle the sauce to put on the shelf in the grocery store," Lee says.
---
On Twitter? Follow Mike for interesting tweets regarding regional conversations, international affairs and other random timely topics @itsmikebivins.