Scoop of Heaven
Ice cream shop brings year-round cool
9/29/2015, 2:28 p.m.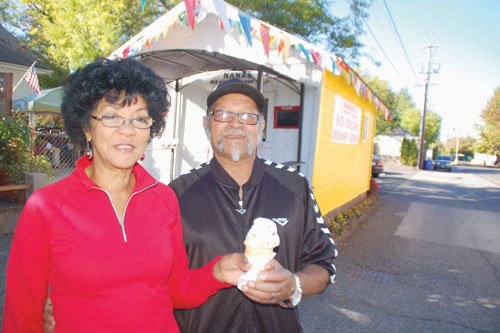 A small ice cream shop is bringing year-round cool to a corner of northeast Portland. Patricia A. Trice and her husband Fred have been running A Scoop of Heaven since 2007 from their shop in the corner behind the U.S. Bank on Northeast Killingsworth and Martin Luther King Jr. Boulevard.
"God gave me a vision, not once but three times of an ice cream shop as a future business," says Trice. "I shared the vision with my husband and we both prayed about it and waited on God."
A spell of good luck and help from the community also guided her and her husband to making their dream a reality. The shop, which was originally called Nana's Ice Cream Shop, went through a series of hurdles with the City of Portland, and was even shut down when the Trices could not afford to meet the city's demands and regulations. There was also construction near her stand that made it hard for her to get customers. However, through perseverance and engaging more with the city, Patricia Trice says she was able to reopen in July 2013. Since then she has been excited to bring her classic flavors of Tillamook ice cream to the neighborhood, citing her faith as the strength that helped her family keep doors open and bring a little color and sweetness to her neighborhood.
The shop is open year round, Tuesday through Saturday 11 a.m. to 7 p.m.