Blazer Legend Hired at University of Portland
Terry Porter moves from NBA to guide Pilots
4/5/2016, 4:58 p.m.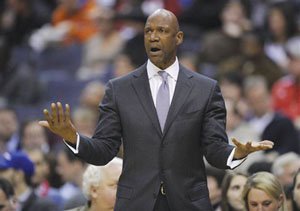 'Portland basketball icon Terry Porter has been named head men's basketball coach at the University of Portland.
Porter is a beloved former Portland Trail Blazer, 17-year NBA veteran player and former NBA head coach.
"This is a very exciting day for the University of Portland and Pilot Basketball," Scott Leykam, the university's athletic director said in announcing the hiring over the weekend. "Terry brings a phenomenal basketball pedigree to campus having coached and competed at the highest levels. He also will be a perfect fit for our campus and its mission of teaching and learning, faith and formation, and service and leadership. Terry has proven that he is a man of high character and integrity with a competitive drive that will translate well to this new opportunity. We want the City of Portland to embrace us and get on board with an exciting new chapter of Pilot Basketball."
"I am honored that Scott Leykam and University President Fr. Mark Poorman have given me this great opportunity," Porter said. "I'm excited about working tirelessly to continue to build this program up and establish a great tradition of Portland Basketball. I have been blessed to coach at the highest level in the NBA, but college has always intrigued me because of the impact that my college coach, Dick Bennett, has had on my life. To now have the opportunity, in my hometown of Portland, to impact other young men's lives is phenomenal and to be able to do so at a prestigious academic institution means a lot."
A Milwaukee, Wisc. native, was the head coach of the Milwaukee Bucks for two seasons (2003-05), including leading the team to the 2004 NBA Playoffs. He served one season as head coach of the Phoenix Suns (2008-09) and was also an assistant coach at Minnesota, Sacramento and Detroit.
The notable coaches that Porter played for throughout his career include Jack Ramsay, Rick Adelman, Flip Saunders, Pat Riley and Gregg Popovich. Porter also played for legendary college head coach Dick Bennett at Wisconsin-Stevens Point.