In Loving Memory
Eugene Hudson
4/5/2016, 4:49 p.m.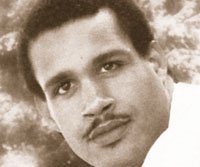 Eugene "Angel" Lee Hudson was born on July 26 1990 to Leroy Hudson Jr. and Candi Wallace in San Francisco. He passed away on March 29, 2016.
He moved to Portland when he was 2 years old and was raised by his grandmother, Lucille Bridgewater. He attended Vernon Elementary school, Whitaker Middle School and graduated from Thomas Edison High School.
Eugene worked at The Oregon Humane Society because of his love of animals. He also worked in the Health Care Industry so that he could help others. He will always be remembered for his infectious smile and positive attitude. He was a happy, fun and sociable young man. He loved to be on-the-go, camping, fishing and any activity outdoors.
He was preceded in death by his grandfather Leroy Hudson Sr. and his great grandmother, Georgia Mays. He is survived by his father Leroy Hudson Jr. (Marilyn) of Portland; mother Candi (Nate) Wallace of San Francisco; and grandmothers Lucille Bridgewater of Portland and DeBorah Conston of San Francisco. He is also survived by special close friend Megan Noryce Morley Garner; his brothers, Leroy Hudson III of Portland, Ollie Hudson of San Francisco and DeMarco Tiger, Jr. of Los Angeles; a sister Candra Hudson of San Francisco; a niece Londyn Hudson of Portland; and a host of aunts, uncles and cousins.
Repass is planned for Saturday, April 9, 2016 at Billy Webb Elks Lodge, 6 N. Tillamook St. from 2 p.m. to 5 p.m.