Diversity of Talent Unsurpassed
A new season at the Oregon Shakespeare Festival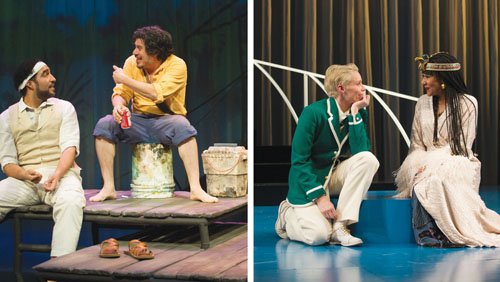 The first batch of plays in Oregon Shakespeare Festival's 2016 season have opened, and offer no shortage of reasons to make a spring trip to Ashland. For the first time in its history, the OSF acting company features a majority of actors of color (sadly, unusual for a theater of its size and type), and the company's diversity and talent, and its excellent programming, make for riches too good to miss.
My favorite of the first batch of shows does indeed require an early trip, as it only runs through July 7 -- but it is such a luminous story of love and risk that I hope to see it at least once more myself before it closes. "The River Bride," a world premiere written by Mexican-American poet and playwright Marisela Treviño Orta, is set in the Amazon and builds its story of love on Brazilian folklore about river dolphins who transform into men. Its six evenly-matched characters, all beautifully played, are the two daughters (Nancy Rodriguez and Jamie Ann Romero) of a fisherman and his wife (Triney Sandoval and Vilma Silva), the fiance' of one of the daughters (Carlo Albán), and a mysterious and well-dressed man (Armando McClain) whom they rescue from the river and who becomes a somewhat urgent suitor to the other daughter. Should she love or fear him?

Love is the concern of the play and its characters; one daughter is about to marry, and the other has lost the love of one man and is afraid to accept the love of another -- and indeed, all four of the younger characters are grappling with some aspect of the risk that always comes with love. The ways in which each of them gives in to fear taps into the deepest fears and longings of all of us; chances are, you will see yourself in at least one of these characters if you are courageous and honest enough to look.

The bravest of these six characters are the fisherman and his wife, but the play takes its time in revealing why. The ease of their relationship and the pleasure they take in each other after many years is the secret-in-plain-sight that the younger characters -- and most of us, I think -- miss; they embody a kind of hope and faith that is so rare that it is missed sometimes even by those who possess it.

Orta's use of folklore grounds the story, revealing the spiritual risk that holds each of the four younger characters back in some way. Like the best folklore, the play's mystical elements reveal truths that can't be captured any other way. The play offers a window into the vantage point of each of these four, floating back and forth among them, moving us deeper and deeper until we see more and still more ways that each grasps for a different kind of life and each lacks the simple faith it takes to achieve it. What a lovely, soulful gift these talented players are offering us--it resonated deeply with my own experience of the miracle of love and the dread that keeps so many people from finding it.