Diversity of Talent Unsurpassed
A new season at the Oregon Shakespeare Festival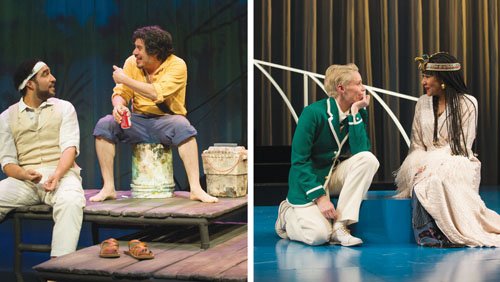 You'll have all season (till Oct. 30) to catch this year's excellent production of "Twelfth Night," which hummed with buoyant energy at opening and will just get better and better. Set in 1930s Hollywood, the production revels in the flamboyance of styles and emerging flexibility of gender roles (however incipient) that existed in that era, and turns the play's courtly kingdom into Hollywoodland, an apt casting choice.
The production delightfully casts two terrific black actors in significant roles, giving us a mixture of 1930s Hollywood as it was and might have been. Gina Daniels plays Olivia, the countess of Shakespeare's play, as a glamorous Hollywood starlet poised between reveling in her star power and feeling confined in its trap, which gives her attraction to the boyish Viola-as-Sebastian particular resonance. Daniels is delicious in the role, smooth and sly and determined and gorgeous as any good starlet should be. (Her costumes are particularly wonderful, too). And Rodney Gardiner plays the fool with just the right knowing air -- he glides through his scenes (quite literally at times) and captures how a person outside the social hierarchy often can class up the place and be the smartest person in the room.
The rest of the cast is also very fine, notably Sara Bruner as Viola/Sebastian, who moves between male and female with wonderfully jittery energy which seems to suggest that neither expression contains her wholly. A trio of comic characters (skillfully played by Daniel T. Parker, Danforth Comins, and Kate Mulligan) function to set various tops spinning throughout the play, and to torment Olivia's unctuous steward, Malvolio, who Ted Deasy manages to pitch at a delightful balance between annoying and sympathetic. A gorgeous set with a broad winding staircase a la Fred Astaire gives them wonderful spaces to dance and tousle. Director Christopher Liam Moore has once again choreographed a space that calls forth the best from the company and invites all of us to a first-class party.
Buoyed by the success of its 2011 production of "The Pirates of Penzance," OSF has enlisted director Sean Graney and his team of co-adapters to mount another Gilbert & Sullivan production -- "The Yeoman of the Guard" -- with Graney's characteristically playful style of updating and genre-bending. They have set this production in an eclectic country-and-western style, with a portion of the audience participating with the actors on stage. If all of that sounds intimidating -- it's really not. Whether or not you like Gilbert & Sullivan or country-and-Western music, there is good reason to hope that this production will keep you giggling and tapping your feet.
Finally, this season includes a staging of the beloved Dickens' novel, "Great Expectations," newly adapted by director Penny Metropulos and Linda Alper. I found this production a bit stolid and too much like a staged reading -- but nevertheless was quite touched by many of the performances, and expect that love of the source material will carry this production into the hearts of many audience members. Like "Yeomen" and "Twelfth Night," it also will run all season.
Darleen Ortega is a judge on the Oregon Court of Appeals and the first woman of color to serve in that capacity. She also serves on the Oregon Shakespeare Festival board. Her movie review column Opinionated Judge appears regularly in The Portland Observer. You can find her movie blog at opinionatedjudge.blogspot.com.