NAACP stands up against cop fundraiser
'Meet the Heat' Protest
Cervante Pope | 4/6/2016, 3:18 p.m.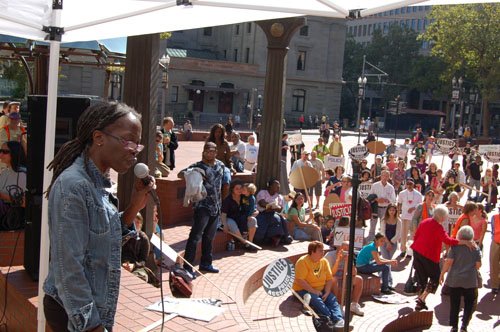 In what sounded like an April Fool's joke but was in actuality a hosted event, a Citizens Crime Commission and the Portland Police Foundation thought it appropriate to host a "Meet the Heat" fundraiser, where a $1,000 donation for registration gave participates an opportunity to schmooze with law enforcers.
NAACP Portland Chapter President JoAnn Hardesty and the group Portland Copwatch saw the obvious abuse of public property and employees for a private pledging affair, and called for a protest that same morning at the Portland Police Training Facility, where the Friday fundraiser was held.
The registration fee included a membership and badge for the inaugural Portland Police Foundation's Founders' Circle, an associate membership with the Citizens Crime Commission, the chance to meet members of the Special Emergency Reaction Team, the "world famous" K9 Unit, and witnessing various police tactics in action.
In the shadow of a federal Department of Justice Agreement with the City of
Portland to reduce unnecessary use of force, the protesters said it looked more like an ad for a "Lethal Weapon" sequel than a means to attract donors who wish to support law enforcement and reduce
crime.
Hardesty was joined by more than a couple of dozen of other supporters. She led them on a charge of the facility building, where they were met by police and were able to negotiate and guarantee that no one was arrested.
It is unclear how much money was raised, or if this event will take place again next year, but we can rest assured that Hardesty and other community advocates will be there to protest If it happens again.