After houses shot up, elderly couple pleads for peace
Caught in the crosshairs of suspected gang activity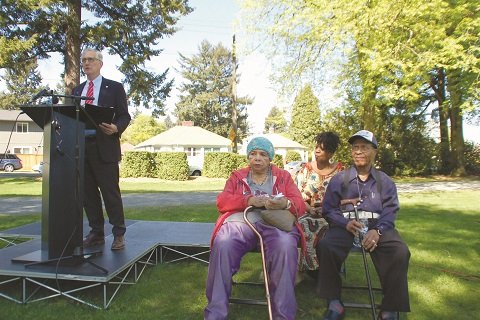 A string of shootings has pushed an elderly black couple to plead for an end to gun violence while local law enforcement has pledged to step up efforts to combat local gangs.
Over four dozen rounds of bullets blasted through three homes just off North Albina Avenue and Ainsworth Street across from Peninsula Park during the early hours of Sunday, April 3. Luckily no one was injured, but the many nearby residents were left shaken, including Mr. and Mrs. Bradford, a couple in their 80s.
The Bradford's home was among those caught in the crosshairs of the suspected gang activity.
In efforts to publically address and openly discuss the gunfire and a spate of shootings across the city, Mayor Charlie Hales stood in Peninsula Park last Thursday with the Bradfords, police, the U.S. Attorney for Oregon, the Multnomah County District Attorney and other community leaders.
Charlie Mae Bradford sat sweetly next to her husband as she described some of the damage done to her home of 40 years, before leading into her heartfelt request:
"We live in fear now. We want to feel safe in our home again. We want everyone to feel safe again. Please stop the shooting, we need to get to caring for each other. Please put down the guns," Bradford pleaded.
A few members of Enough is Enough, an organization of women who have lost loved ones to gang violence, shared the personal accounts of lives lost to gunfire.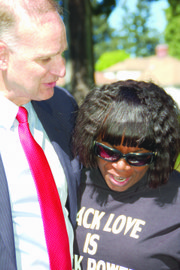 Of those present, Perlia Bell, Shannon Taloff and Kiar Chaney chose to speak. Bell's daughter, Asia, was killed in a shooting back in 2002, while Taloff's son Anthony Jackson was killed last summer, and Chaney's brother Marquis being gunned down in March of last year.
Assistant Police Chief Kevin Modica, State Rep. Lew Frederick and U.S. Attorney Billy Williams spoke on the collaborative efforts of law enforcement agencies to abate gang violence. Adult parole and probation gang unit supervisor Bryan Smith talked about working with other agencies and rehabilitation programs targeted to former perpetrators.
"We all live here," said Pastor Mark Strong, a member of the local African-American clergy. "This is a problem for all. Whether it's black, white, Hispanic, it's everybody's problem."
So far this year, police have responded to 45 gang-related shootings, up from 36 at the same time a year ago. There's been 15 people wounded and one person killed with 414 bullet casings recovered at crime scenes, authorities indicated.
The effort to make the community saver from gunfire was to target the individuals who are pulling the triggers, "The worst of the worst," to get them off the street and incarcerate them, police said.