Arts Tax Due and Many Citizens are Confused
Paying it isn't as easy as it seems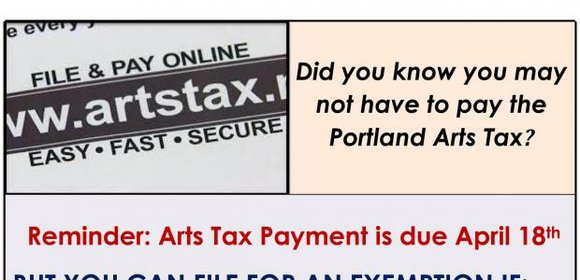 We get it; statistically speaking, Portland is one of the biggest creative hubs in the United States. That isn't news to anyone, but the Portland Arts Tax is, to some.
The goal of the tax is to provide an artistic outlet for young kids in schools by bringing art teachers into 70 elementary schools across six Portland school districts, as well as supporting the city's artistic organizations.
The measure first popped up on a ballot back in November 2012 and to date has raised a combined $24 million for the Regional Arts and Culture Council and Portland area schools. Yet, four years later, residents are still either uninformed of the Arts Tax, or uninformed on how to pay it.
Aware of this issue, Elders in Action has sought to help those perplexed by the process by breaking down the details and providing a streamlined outline of the tax's information. As it stands, every adult living within Portland city limits that makes a minimum annual income of $1,000 has to pay the $35 tax fee. The Arts Tax form is separate from federal and state income tax forms, and applies even if you don't file your taxes.
The 2016 Arts Tax is due on April 18, with a $15 penalty for late payment. Tax payments received after Oct. 17 come with a $35 penalty, doubling the tax. Certain factors do qualify residents for an exemption. If you're single and your annual income is less than $11,770, or if you're a couple with an annual income of less than $15,930, you don't have to pay.
In order to opt out, however, you must still complete the Arts Tax form every year, providing a proof of income via copies of your tax form, or federal form 4506-T.
If you're over 70 years old, disabled, and fall within low income guidelines, the option of permanent exemption is available by completing a separate form.
All these forms and qualifications can be tricky to keep up with, so Elders in Action is available for assistance at 503-235-5474.
The City of Portland Revenue Division encourages everyone to pay their tax online (portlandoregon.gov/artstax) as the quickest and easiest way to avoid the penalty fee.