Doors Open for PCC Job Fair
Access to employers, seminars and more
Cervante Pope | 4/19/2016, 4:52 p.m.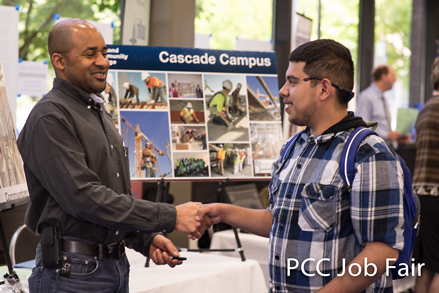 With job security in Portland growing shakier for many residents, job fairs are becoming more of a welcomed resource.
For those that are technologically savvy by means of employment search sites, scouring the internet for classifieds has proved a competitive feat with employers seeing a higher flux of applicants for just one open position. Taking into account the rising boom of the tech industry, those that hold their trades in other markets see opportunities dwindling.
Thankfully, Portland Community College is slated to host another free, open to the public job fair for those that are in need of employment, yet stunted by a lack of practical resources.
The PCC Cascade campus will open its gymnasium at 600 N. Killingsworth St. on Tuesday, April 26, from 11 a.m. to 3 p.m., for the unemployed, under employed and those in need of guidance.
Over 100 employers will be at the fair to attract qualified students and community members to fill vacant slots.
The job fair will also feature a series of seminars to help instruct, educate and aid applicants in gaining the necessary tools and traits needed to successfully seek employment, included free professional profile pictures for the first 100 attendees. To get ahead of the game, an updated list of the job fair's employers can be found at pcc.edu/cascadejobfair.