Help to Prevent Child Abuse
4/20/2016, 2:02 p.m.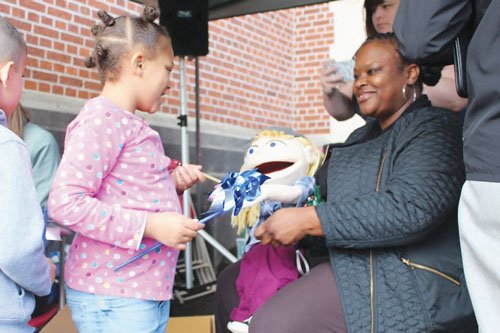 April is Child Abuse Awareness Month and members of the community working to prevent child abuse are bringing some attention to the issue.
Communities for Safe Kids Impact NW and Cares NW visited Vestal School, 161 N.E. 82nd Ave., on April 4 to plant pinwheels in Vestal's front lawn provided by the Children's Trust Fund of Oregon and Prevent Child Abuse Oregon.
The visual display was to remind the community of the many actions they can support to help prevent child abuse, including education on early childhood development and parenting; participation in and support of primary prevention programs; more advocacy for lawful support of child abuse efforts; and donations to programs that help those affected by child abuse.
Speakers included Portland City Commissioner Dan Saltzman, Impact NW Managing Director Jeff Cogen, Vestal Principal Emily Glasgow and Oregon Department of Education Sexual Health and School Health Educator Ely Sanders.
In 2015, the Oregon legislature passed Erin's Law to require all Oregon public schools, grades K to 12, to provide more extensive sexual abuse prevention programs for students, staff and parents.