Commission Candidate Sets Priorities
Childs' emphasis on children, seniors and the displaced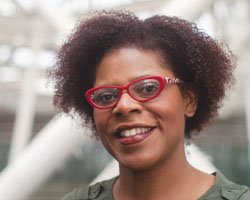 With the May 17 Primary Election rapidly approaching, voters are fervently looking at candidates to prove their worth. For those that live within the confines of Multnomah County District 1, which encompasses the west side of Portland, inner southeast Portland from I-84 to Sellwood and east to Cesar Chavez, Marisha Childs just may be the answer needed.
Childs is an attorney and has been a member of the black community in Portland for the last 11 years. She is running on a platform primarily focusing on three specific priorities – improving mental healthcare for senior citizens, food insecurity (especially concerning children) and culturally-relevant affordable housing.
Childs points to her experience on housing issues in the operation of her own family and senior based law firm in Vancouver and having worked on community projects such as finding housing for seniors and foster youth.
Understanding the importance of properly representing communities of color and other disadvantaged populations, she makes a pledge of working with minority-based organizations like Portland Community Reinvestment Initiatives (PCRI), the Native American Youth and Family Center (NAYA), the Urban League of Portland , the Asian Pacific American Network of Oregon (APANO) and the Center for Intercultural Organizing on solidifying housing for those who have been forced out.
"Recognizing the significant impact created by the city in displacing many communities of color, I will work to bring people back to the neighborhood they were displaced from. Living in housing that meets your cultural and emotional needs is uplifting and when you're uplifted, your whole outlook on life can shift," says Childs.
Having quality and healthy food is another important facet of life not everyone experiences and Childs seeks to change that. With the somewhat recent cuts to SNAP (food stamps) benefit qualifications and the steadily increasing prices of nutrient rich foods, many are left in food deserts, starved by food insecurity.
"I have yet to understand the disconnect between a city that has such an abundance of 'great restaurants,' yet has a food shortage," Childs says. She hopes to see county buildings and schools brightly livened by the colors of healthy treats. "I envision fruits and veggies being biked around like SoupCycle to area food deserts. Think of ice-cream man music, but a new tune."