Right to Return Home
Pathway 1,000 aims to fix troubled housing history
Attempting to fix a troubled housing history in the city, Portland Community Reinvestment Initiatives, Inc. (PCRI) and the Portland Housing Bureau have pioneered a new campaign in hopes of acknowledging and fixing the longtime displacement of mostly people of color and low income residents from north and northeast Portland.
Approximately 10,000 mainly African American residents have lost their homes between the years of 1990 and 2000 in the city's close-in and historically black neighborhoods. Statistically, that's three people every day for 10 years having lost their home.
PCRI's Pathway 1000 Initiative may be part of the solution.
As a part of the Portland Housing Bureau's North/Northeast Neighborhood Housing Strategy, the initiative is a displacement mitigation plan with the goals of dulling and in turn, reversing the involuntary displacement of those former long term Portland residents that have been pushed out, as well as those who are currently at risk of displacement themselves.
As the longtime executive director of PCRI, Maxine Fitzpatrick has witnessed numerous African American families left abreast to Portland's continual rising housing costs and loss of affordable housing options.
"We cannot undo the harms done, but rather must focus on restoring housing justice for those who were harmed. PCRI's goal is to support and encourage displaced African Americans to focus on the future," says Fitzpatrick.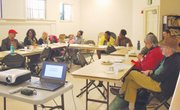 Fitzpatrick and PCRI, along with the Portland Bureau of Planning and Sustainability, the Portland Housing Bureau, the Portland State University Toulan School of Urban Studies and Planning, and PSU's Center for Public Interest Design, plan to build at least 1,000 new homes throughout Portland, with a specific focus on the historic African American neighborhoods.
Ideally, the initiative will allow for families to return to the neighborhoods they were previously forced from, as well as provide many affordable options for those in danger of loss.
The goal is to have 100 new and affordable homes and commercial spaces built every year for the next 10 years, with many of them to be available for affordable home-ownership. Production of these homes began in November, with Colas Construction, a black-owned firm, developing two affordable rental sites in northeast Portland. Preparations for other development sites are also in the works, with intentions to enhance empty or underutilized spaces without compromising the existing neighborhoods.
Of the housing options available through PCRI and the Portland Housing Bureau, applicants can qualify for a Down Payment Assistance Loan, a Permanent Affordability plan or a Self Help Affordability plan.
Applications for those that qualify will be accepted between May 2 and May 13. Residents can either apply online, in person at a designated site, or mail in an application within those dates. The application, along with a list of designated sites and additional information on the program can be found at portlandoregon.gov/phb/article/570591.