Holding Ground
Springwater Corridor residents fight eviction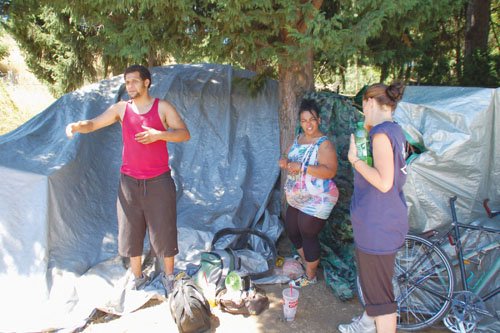 Residents along the Springwater Corridor in southeast Portland have received a month long extension to move out as Mayor Hales has set a new date of a forced eviction of homeless camps to Sept. 1.
The extension comes after a threat of a lawsuit and a court injunction filed by the Oregon Law Center on behalf of 11 Springwater campers who have disabilities.
Hales acknowledged that his first notice to vacate the corridor over a few days was a bit unreasonable because the city doesn't yet have good options to find other places to sleep for all the people living there.
"That continues to be true. Recognizing that, I want to ensure this cleanup is as humane and compassionate as possible. Adjusting to social service providers' requests is part of that," Hales said.
Social service providers will work with the corridor's residents and other advocates to find other places for the homeless to move.
"Services for the houseless have been insufficient for years," said Gabriel Erbs of Portland Tenants United, a group that has been closely tied with the Springwater inhabitants.
Erbs blames chronic state, city, and county underfunding for homeless services as a partial cause of the present crisis.
"Our elected officials' refusal to pass tenant protections like rent control and just-cause eviction reform are another cause," Erbs said. ""If Mayor Hales decides to go through with his forced eviction of Springwater residents, we know the safety net is simply insufficient to catch these people. They will be dispersed into surrounding neighborhoods - even more estranged from social services."
While the mayor seeks to keep the evacuation benevolent and symbiotic between the housed and the houseless, some of the campers feel quite the opposite effect is in place.
Tyrone, a minority camper that occupies a section on the Springwater just underneath where the I-205 meets Southeast 92nd, expressed a mild inequality in treatment during these first stages of the removal process.
"They got favoritism out here," Tyrone told the Portland Observer, sharing pictures on his shattered phone screen of parts of his camp that had been stepped on and ripped apart by city code enforcement officials who didn't do that to other camps.
Word of the eviction extension blew through the encampment shortly after it was announced last week, but a combination of rumors and previous behavior by the city still leave Tyrone and other campers uneasy.
"Thirty days is still just 30 days," Tyrone said. "I hear they're going to have military forces out here to do it."
Another camper named Damien expressed more worry over plans to accommodate some homeless individuals to a nearby vacant property, the so-called Kalbrenner site off Southeast 105th Avenue and Reedway. Advocates for the homeless say the property has environmental and human health risks due to contaminated soil.

Damien also shows frustration with some of the camps on the Springwater Corridor that are not kept clean. As garbage and waste collects, the bad image the campers are receiving grows.
"People just need to keep their camps clean and there wouldn't be a problem," Damien said.
He also mentions how the corridor offers more in terms of nooks and crannies for campers to set up and have more privacy, which is to him something the 5-acre Kalbrenner property lacks.

Both men admitted that theft and altercations are fluidic occurrences throughout the encampment and haven't been alleviated with the recent tensions.
"I knew this girl whose boy would beat her every day and I tried helping her but she kept running back to him. I can't stand that," Tyrone added, also bringing up a shooting and a fire that happened along the trail.
"I guarantee if my kids were still out here that shooting and that fire wouldn't have happened," Tyrone said. He asserted that his children were taken from him during a social service provider walk-through at the beginning of the mayor's sweep process. He's unsure of where his children are currently located.
Hales said a major cleanup in one month will balance our need to treat people humanely, with the "need to restore the Springwater to a public asset."
For Tyrone, at least, the city's restorative attempts may be fruitless efforts.
"Peoples' still not gonna leave," Tyrone says. "We're gonna hold our ground."