Hughes Home Wanted for Cultural Space
8/2/2016, 4:43 p.m.
Renée Watson, a former Portland resident now working as an author and educator in New York, has undertaken a project to turn the historic Langston Hughes home in Harlem into a space for emerging and established authors to gather, create and showcase their work.
Watson has launched a nonprofit organization, I, Too, Arts Collective, with the goal of celebrating the legacy of the black poet, novelist and playwright by leasing the Harlem brownstone where he lived and created during the last 20 years of his life. Currently empty, Watson envisions the brownstone as a space for artists, poets, and creators to come together, mentor one another, and build upon the rich cultural legacy left by Hughes.
"I've walked past the brownstone where Langston Hughes lived many times and wondered why it was empty," explains Watson. "How could it be that his home wasn't preserved as a space for poets, a space to honor his legacy?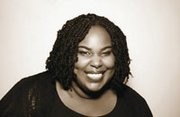 "The historical and cultural spaces where African American pioneers lived and created should be preserved," she adds. "This is not just for nostalgic reasons, but I see a need for young people to know about and understand the legacy they are a part of; the artists and activists who paved the way for them."
I, Too, Arts Collective is currently seeking donors to help raise funds for their first year of expenses, including renovations to the brownstone and leasing costs. They have until the end of August to gather the funds, and they've established a website where supporters can help them reach their goal at generosity.com/community-fundraising/i-too-arts-collective.
To find out more about Renée's work and to support the I, Too, Arts Collective, visit her website at rennewatson.net or email her at info@reneewatson.net.