Empowered for Disasters
Residential response teams form to protect us from the big one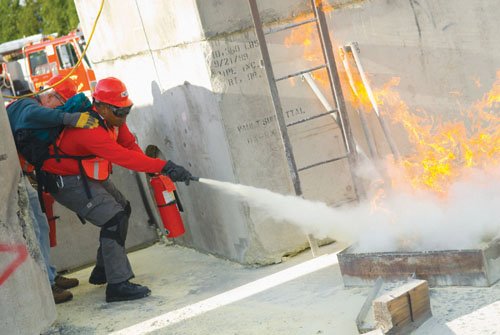 Portland's Neighborhood Emergency Team (NET) program could save your life in the event of a natural disaster. Modeled after community emergency response teams in Los Angeles and San Francisco, the teams are backed by the residents of the community who are trained to help their neighbors when a major earthquake or other national disaster occurs.
"We know that pretty consistently around the world, in any natural disaster be it an earthquake, tsunami or whatever, 92 to 95 percent of all the people saved are rescued by their neighbors, not by professional emergency responders," says Portland's NET Program Coordinator Jeremy Van Keuren.
The NET curriculum allows for people to volunteer as emergency responders so they can carry out search and rescue operations effectively, but also just as importantly, safely. Van Keuren says.
"I think where you find community resilience is a good community to be in during a disaster," says Van Keuren. "One thing that data does show is that communities that have a stronger fiber tend to bounce back from a disaster better and quicker than communities that don't."
NET volunteers go through 30 hours of training in areas like disaster preparedness, search and rescue, patient triage and disaster psychology among other areas. Basic NET training is usually but not always instructed by members of Portland Fire and Rescue.
The disaster preparation comes with the prediction Portland will face a devastating Cascadia Subduction Zone earthquake sometime in the future.
"It makes it really easy to throw your hands up and say 'it's such a big thing that I can't do anything about it' and I detect that a lot of people fall into despair or indifference about it. People don't really have a concept of it," Van Keuren says.
Despite general apathy, the program has seen an increase in interest. Applications for the program are on the rise but the diversity of those enrolled falls short of reflecting Portland's population.

"We're really trying to improve diversity in the program. It's been challenging," says Van Keuren.
At present, only 10 percent of Portland NET members classify themselves as non-white, which is a stat both Van Keuren and the NET board are hoping to change through reaching out to local organizations that work with communities of color.
"It makes a huge difference when you're actually working with those community leaders on an ongoing basis, especially when there's not a crisis or a problem to solve. Just hanging out with them and getting to know them is very important and frankly I don't think we've done that very well in our bureau,"
Van Keuren says the NET teams should see themselves not so much as the people that are going to be responding to every single problem after a disaster happens, but more like a force multiplier to the effort by public safety officials.
"We see very consistently in disasters all around the world that people come out of the woodwork and want to help. We call them Spontaneous Unaffiliated Volunteers (SUVs). They can either very greatly enhance the capacity of your response or they can really diminish it, depending on how well you manage them."
Residents interested in joining a neighborhood NET faction or have questions or concerns regarding natural disasters, are urged to visit the Portland Bureau of Emergency Management website portlandoregon.gov/pbem.
"It's scary, but you can empower yourself and it does make a difference. You can make a decision for yourself how you're going to be in the event of an earthquake," Van Keuren says.

"You just have to decide whether you're going to be the person that's unprepared and needs help from everybody, or are you going to empower yourself and be ready for it. If you empower yourself, which doesn't really take a lot of effort, you don't have to be afraid."