Making Food Benefits Go Further
8/10/2016, 4:22 p.m.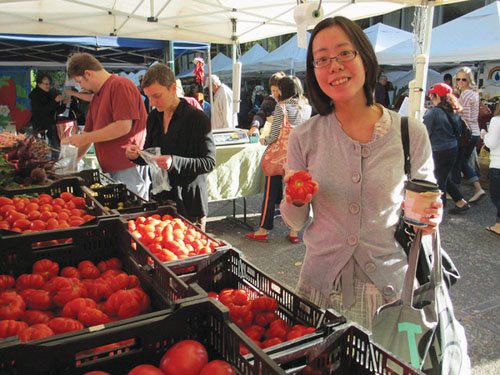 People who receive Supplemental Nutrition Assistance Program (SNAP) benefits in Oregon will see their money go twice as far with a new Double Up Food Bucks program.
The U.S. Department of Agriculture is aiming to see more fruits and vegetables in the hands of disadvantaged households by matching up to $10 worth of food stamps benefit money when it's used to purchase produce at local farmers' markets.
"It's helping to increase access to fresh fruits and vegetables for families who are working a little harder to put food on the table," says Katie Furia, Double Up Bucks program manager. "Also it's helpful for farmers."
Over 50 farmers markets in Oregon participate in the Double Up Food Bucks program, serving Oregon's more than 700,000 residents that receive SNAP benefits, officials said.
To receive the food bucks, recipients must go their farmers' market information tent where they'll swipe their Oregon Trail Card in exchange tokens for the SNAP qualified food and Double Up match.
Fresh cut herbs, legumes and beans, vegetables, mushrooms and fruits all fall under what can be covered by food bucks, and recipients can still use their SNAP benefits like usual for other food items at the markets like breads, cheese, meats and eggs.