Mayor Wants Sanctioned Camps
New policy puts added scrutiny on homeless campers
8/10/2016, 4:20 p.m.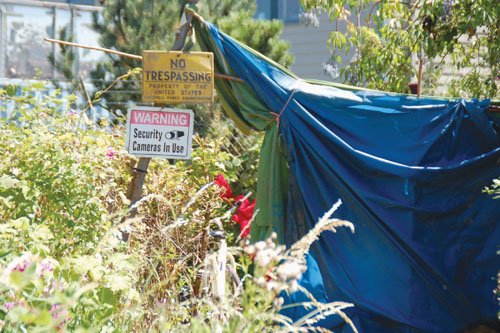 Guidelines that allowed homeless persons to pitch tents on public properties overnight as long as they packed up by morning along with other parts of a declared housing emergency have been rolled back in new directives by Mayor Charlie Hales.
The biggest immediate adjustment comes in the now defunct Safe Sleep Guidelines that caused made many houseless individuals to believe camping was legal, said the mayor's communications director Sara Hottman.
A second significant change means that only sanctioned camps, where a non-profit takes the lead in providing certain services, will be allowed.
It means that the camping along the Springwater Corridor in southeast Portland will be swept clean and popup encampments like Hazelnut Grove, sandwiched between North Interstate and Greeley Avenues, will eventually be moved, Hottman says.
"There are still plans to move Hazelnut Grove from its current site, because the site is extremely difficult for sanitation services to access in order to empty dumpsters, portable toilets, and needle containers," says Hottman.
Officials and housing advocates want to identify a more serviceable site, and re-establish Hazelnut Grove under a nonprofit manager, per the city's "Home for Everyone" framework, she says.
Citywide, only one property out of 120 scouted sites, has been identified as a potential sanctioned camping site that can meet the new requirements, a location off southeast 104th and Reedway called the Kalbrenner property.
Hoffman says the city is working on preparing the property, including removing vegetation and contaminated soil, installing water and electricity infrastructure and establishing a nonprofit site manager. Depending on zoning, it could hold 100 to 200 campers.
In addition to existing shelters, like one in Westmoreland that offers 150 beds and the new 200-bed Hanson Shelter that just opened with the transfer of sheriff's offices in east Portland, Hottman says about 200 more shelter beds are on the way.
For the inevitable hundreds of houseless persons that won't end up with a shelter bed following the pending camp sweeps, where they will end up is still a question Hottman can't answer.
"That's a big question and that's a tough question. It'll be up to them to find hopefully a discreet place to get by."