Allen Temple Rebuilding
Historic church kicks off remodel after fire
8/16/2016, 4:44 p.m.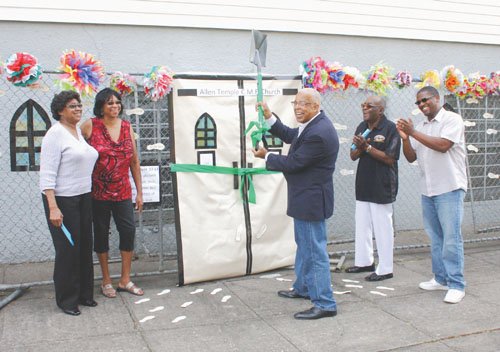 Allen Temple C.M.E. Church held a groundbreaking ceremony Saturday to rebuild the historic African American church more than a year after two electrical fires severely damaged the northeast Portland property.
Church supporters were joined by city officials and other church leaders to share in design plans for the construction that will be submitted to the city for approval, which were drafted by Carleton-Hart Architecture.
"We are very pleased by the support shown by our community, it's been a journey," says Allen Temple leader Rev. Dr. LeRoy Haynes.
Since the double-fire occurred Feb. 7, 2015, Allen Temple services have temporarily relocated to Maranatha Church while donations are collected for a fire restoration fund.
The Allen Temple Facebook page provides information on making contributions via Paypal online, mailing in checks, or depositing money directly to the Allen Temple Restoration Account at Bank of America.
The fundraising will pay for what the church's insurance doesn't cover of the estimated $300,000 damage caused by the fire, church leaders said.
A timeline for rebuilding the church is scheduled to be set after the hiring of a contractor and approval of the architectural plans.
"The physical goal has been to restore the church, but there has also been a spiritual goal that has deepened our relationship with God in our journey to restoration of the church," Rev. Haynes says.