Athletes Make Olympic History
Minority firsts dominate this year's games
8/16/2016, 4:39 p.m.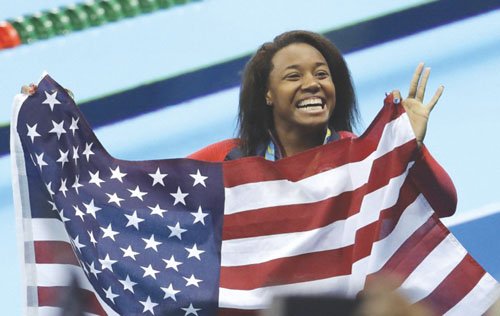 Athletes representing the United States at the 2016 Olympics in Rio de Janeiro, Brazil are bringing home gold for the nation and for black history.
Stanford University swimmer Simone Manuel kicked off a series of unprecedented achievements by being the first black female swimmer to win an Olympic medal for an individual event.
Her glory defeats what Jim Crow laws and stereotypes fought so hard to maintain as truth – that blacks can't swim with whites, let alone better than they can.
Simone Biles, 19, became the first American woman to win four gymnatics gold medals in a single Olympic Games on Tuesday when she won the women's floor exercise. She's also the first American woman to win the individual Olympic vault competition.
Her fellow black gymnast Gabby Douglas, still riding high from her gold medal in the 2012 London Olympics, faced public scrutiny in Brazil where online spectators have made racial comments regarding her hair, facial expressions and for not placing her hand over her heart during the National Anthem after winning gold in team competition.
"I tried to stay off the internet because there's just so much negativity," Douglas said during her post-competition interview.
More firsts come by way of Michelle Carter, who is now the first American woman to win a gold medal in shot put. Her Olympic athleticism runs through her blood, as Carter threw farther than her father and coach Michael Carter's previous win of the silver medal for shot put at the 1984 Olympics, according to the Huffington Post.
Not all triumphs are awarded with medals, though. Black Muslim female fencer Ibtihaj Muhammad may not have won a medal in the women's sabre fencing individual competition, but she is the first American athlete to compete while wearing a hijab, the traditional headscarf worn by Muslim women.
"In this particular political climate in the history of this country, it is groundbreaking to have a Muslim woman on the U.S. team," Muhammad told BBC. "I am excited to challenge the stereotypes and misconceptions people have about Muslim women."
If there's anything that can be remembered about the Rio Olympics for years to come, it's the wealth of inspiration the competing black women have left as their legacy.