Democracy's Blueprints
See first printings of bedrock documents
8/16/2016, 4:36 p.m.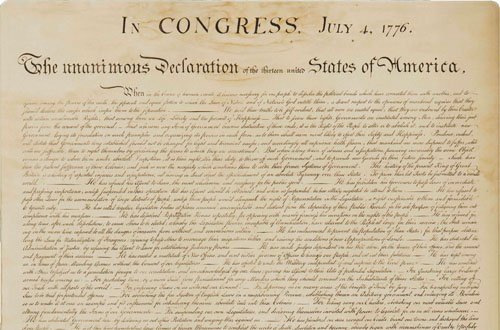 The Magna Carta. The Declaration of Independence. The U.S. Constitution and Bill of Rights. The Monroe Doctrine. These bedrock documents laid the foundational "blueprints" of American democracy and some of the earliest printings and engravings of these iconic pieces are now on view at the Oregon Historical Society, 1200 S.W. Park Ave., through Feb. 1 in the original exhibition Democracy's Blueprints: The Documents that Built America.
"In this election year there is no better time to see and study the documents that built and continue to guide our democracy," said Kerry Tymchuk, the museum's executive director. "With the exception of the National Archives in Washington, D.C., I don't think there is any museum in the country where you can see so many priceless historic printings and engravings at one place at one time."
One extraordinary standout of this exhibition, on loan from the Mark Family Collection, is the 1733 engraving of the Magna Carta. Written in 1215, the Magna Carta was the first document to limit the power of a monarch, and it is regarded as the cornerstone of Western democracy.
Other notable artifacts on view include handwritten letters from George Washington and original engravings of the inaugural addresses of Presidents John Adams, Thomas Jefferson, and John Quincy Adams.
While the words of these iconic documents have remained unchanged for centuries, citizens and politicians have continuously debated their meaning and application--challenging each other on issues such as the balance of power in the branches and the purviews of state and federal governments.
You're invited to consider the relevance of these bedrock documents from our past and consider how they continue to guide and impact present-day politics.
The Oregon Historical Society's museum is open seven days a week. Admission is free for OHS members and Multnomah County residents thanks to the recent renewal of the Oregon Historical Society levy.