Dean of Black Press Dies at 69
8/23/2016, 4:46 p.m.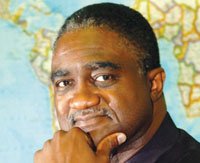 Pioneering civil rights and black political journalist George E. Curry, dean of the Black Press, as editor-in-chief for the National Newspaper Publishers Association, where he was known for his riveting weekly commentaries, died of a heart attack on Saturday, Aug. 20. He was 69.
Curry began his journalism career at Sport Illustrated, the St. Louis Post Dispatch, and then the Chicago Tribune. But he is perhaps best known for his editorship of the former Emerge Magazine and more recently for his work as editor-in-chief for the NNPA, a federation of more than 200 African American newspapers, including the Portland Observer.
His recent work at the NNPA has ranged from being inside the Supreme Court to hear oral arguments in the University of Michigan affirmative action cases to traveling to Doha, Qatar, to report on America's war with Iraq.
As editor-in-chief of Emerge, Curry led the magazine to win more than 40 national journalism awards. He is most proud of his four-year campaign to win the release of Kemba Smith, a 22-year-old woman who was given a mandatory sentence of 24 1/2 years in prison for her minor role in a drug ring.
Born in Tuscaloosa, Ala., Curry graduated from Druid High School before enrolling at Knoxville College in Tennessee. At Knoxville, he was editor of the school paper, quarterback and co-captain of the football team, a student member of the school's board of trustees, and attended Harvard and Yale on summer history scholarships.