Wheeler's Black Leader
Mayor-elect to promote top official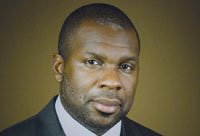 Making Portland City Hall history, Maurice Henderson will serve as upcoming Mayor Ted Wheeler's Chief of Staff and Director of Strategic Initiatives.
Henderson will be filling a tailor-made role, where his responsibilities will include running the mayor's policy agenda, seeing over the mayor's staff and overseeing work on initiatives between numerous bureaus.
Coming to Portland last year to serve as the assistant director of the Portland Bureau of Transportation, Henderson's repertoire of qualified work extends back to Washington, D.C., where he held various top positions for three different mayors' administrations. He was also the top press aide for current Democratic nominee for Vice President Tim Kaine, who at the time was the Governor of Virginia.
"We are fortunate to have a highly skilled manager, policy expert, and proven leader in this role. I expect a high degree of experience and professionalism from my staff and Maurice Henderson is the right person to help me build and lead the team," Wheeler said in an official statement.
Henderson doesn't have a set start date for the position, but will immediately merge with Wheeler's administration as he transitions into office this January.
Wheeler also reassigned current Chief of Staff Tom Rinehart into the Chief Administrative Officer and director of the Office of Management and Finance position. Rinehart will begin his position Oct. 1, which entails seeing over finance, revenue, human resources and other essential city government affairs.