Camera Captures Shooting
Detectives release video to help solve case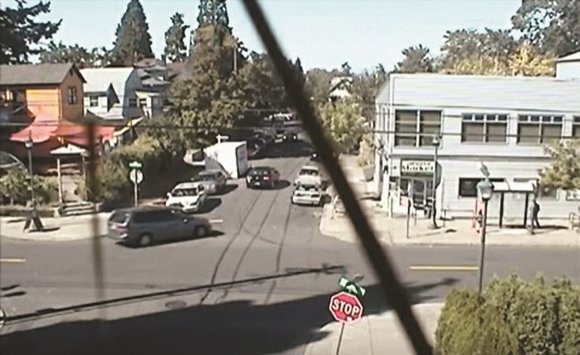 Portland police have released a video of a shooting that occurred near Alberta Market on Northeast Street and Ninth Avenue in hopes that the public can aid in figuring out what happened and bring charges against the person or persons responsible.
North Precinct and Gang Enforcement Team officers responded to reports of gunfire at the intersection around 4 p.m. on Thursday, Aug. 18. Upon arrival officers saw one vehicle that had been hit by bullets while others vehicles fled the scene.
There were no reports of anyone wounded during the gunfire.
The 50 second long surveillance video shows few cars turning northbound onto Northeast Ninth Avenue before a swarm of people begin running to safety both inside Alberta Market and further up Alberta Street. It can be viewed below or at https://youtu.be/7ewhTdr3nhg.
Detectives are asking for witnesses present in the surrounding vehicles at the time of the shootings and any other persons that may have information on the shootings to contact Detective Jeff Pontius at 503-823-2081 or Jeffery.pontius@portlandoregon.gov.