Fixing the Taps
A safe water promise as classes begin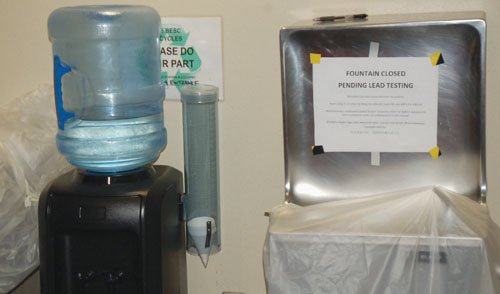 Portland Public Schools opened the new school year Monday with an emphasis on fixing the lead found in drinking fountains and water taps across the district and providing clean water dispensers in every school to avoid infecting students.
A video posted to the PPS Communication Youtube page features Senior Director of Facilities and Asset Management David Hobbs detailing the plans as school officials journey to install permanent solutions.
Earlier this year, information snowballed to the public in regards to hidden issues on the presence of lead in PPS water faucets, leaving parents and children alike with elevated concern. Two main factors of their concern involve the water students and staff consume through drinking fountains and food.
Since all drinking fountains in PPS buildings are shut down, about 1,000 water jug systems will be available for use with paper cup dispensers, Hobbs says in the video.
The paper cups will create will create some waste because they are not recyclable due to a wax lining, according to PPS spokesperson Courtney Westling. But students can bring reusable water bottles to use as an alternative to the disposable cups.
The big empty water jugs will be recycled through the district's water vendor Earth2O, and not by PPS directly, Westling says. Students are encouraged to ask for custodian and other building staff's aid in switching the jugs out whenever they are empty.
Safe water usage in school kitchens was the next issue to tackle, leading PPS to continue a policy it started before the start of summer vacation, using prewashed food until all school kitchen faucets are deemed safe.
Vegetables like lettuce and brussel sprouts will come to school kitchens prewashed and essentially ready to serve, eliminating the need for faucet-run water.
"We are still evaluating fixtures for lead used for food preparation, but the number one priority is getting our kitchens back in order," says Westling.
She also says that PPS is working with a consultant regarding upgrading kitchen pipe systems with the hopes of having the issue resolved by the next school year.
Grains and starches, such as rice and mashed potatoes, will be cooked using a rotation between vegetable broth, meat broth and outside sourced water. Students with religious or dietary restrictions for food will have vegetarian options made available daily, according to Westling.
Additional problems regarding the District's water lead levels involve school community gardens, which is somewhat addressed in a joint statement released by Portland Public Schools and the Oregon Health Authority.
"The amount of lead delivered to soil through water is quite small compared to the amount of lead already present at background levels in soil. Other potential sources, such as lead-based paint chips and dust, represent a much more significant contributor to soil lead concentrations," the statement reads.
"In general, garden plants do not absorb significant quantities of lead. However, it is important for people to wash vegetables and hands after gardening to reduce possible exposure to lead in soil, which is the major potential source of lead contamination on produce."
PPS is still discouraging use of community gardens due to spigots containing lead that may have fed water into the gardens. Westling says the District has no intentions to shut down their near 75 community gardens, but that vegetables grown in them will not be used in school kitchens.
Vegetables from schools' community gardens will not be used again until untainted cold water fixtures can be secured to safely wash garden produce.
PPS plans to continue updating concerned parents and the general public through videos, newsletters and posted signage like they have already exercised since the lead issue became such a hot topic.
Communication on the topic is available in English, Somali, Vietnamese, Russian, Chinese and Spanish, though Westling says interpretation is available for additional languages as well.
"We're really trying to hit people from all angles with communication since not everyone receives information in the same way," Westling says.