Futsal Courts for Healthy, Active Lives
8/30/2016, 4:28 p.m.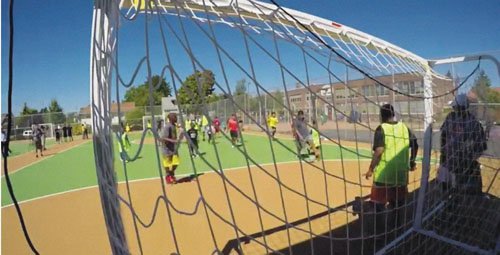 A pair of new futsal courts at Martin Luther King Jr. Elementary School in northeast Portland will support local youth programs, and encourage children to live healthy, active lives. The recently constructed courts signify a strong public service commitment by the Portland Timbers and their community partners.
Portland Mayor Charlie Hales joined Timbers players Fanendo Adi, Taylor Peay and Gbenga Arokoyo, and others for a special dedication of the courts earlier this month.
The unveiling marked the second set of futsal courts presented by the Timbers' Fields for All partnership. Since 2011, the profession soccer club has contributed to 11 soccer fields and futsal courts, providing the greater Portland area with organized outlets for playing soccer.
Fields For All aims to identify recreation deserts – communities underserved by recreational activities for kids – and fill them with safe, healthy and high-quality playing surfaces.