Rebuilding Trust
Alberta Main Street markers to honor black community
Christa McIntrye | 12/6/2016, 4:31 p.m.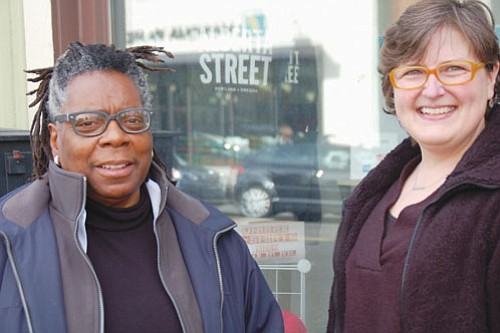 A history markers project to recognize and celebrate the contributions of African Americans in Portland and on Northeast Alberta Street in particular has taken shape as a local business and community group tries to rebuild fractioned relationships and work together to strengthen a diverse city.
Alberta Street is ground zero for a Portland community that has been transformed by an influx of new commercial and residential investments over the past two decades, but one that has also left many people behind, especially for members of the black community and other disadvantaged residents.
Sara Wittenberg, the executive director of Alberta Main Street, is leading an organization that promotes a vibrant and creative but also equitable community.
"Too often, I hear accounts from longtime African American residents that Alberta Street doesn't feel like home anymore or that they don't feel welcome on the street. I understand that this project on its own can't reverse decades of discrimination and disinvestment. But, I hope it is a step in the right direction and that over time we can begin to rebuild fractured relationships and collectively work together to strengthen our community," Wittenberg said.
She acknowledges that promises for inclusion have been heard before by the black community.
"There are skeptics and we want to hear that," Wittenberg said. "But we want to do this project right. We want to do it better."
Last month, Alberta Main Street announced a contest to collect stories for historical markers which will be added to the street to document the history of the African American community.
These won't be your typical bronze plaques with a name and a date. Winners will work closely with artists to create permanent markers, which could be anything from a sculpture or a mosaic in the sidewalk. The goal is also to have African American artists and fabricators involved in the work, as well.
The Alberta Main Street Legacy Project was developed to celebrate the deep roots of the neighborhood and create spaces which bring the stories and history to life.
Last year the group kicked off a community check-in called "Honoring Our Past, Planning Our Future." During the gatherings, many historically under-served and under-represented stakeholders shared that they have not benefited from the changes on Alberta Street.
Kenya Budd, who works on equity and community engagement for the Alberta Main Street organization, said a core component of marker project is to honor and embrace the rich history of the African American community on Alberta Street, including current and former residents of the neighborhoods which border the district, such as the King, Vernon, Sabin and Concordia neighborhoods.
Stories from people of any age, from recent or distant history, uplifting moments or a period of struggle are all welcome, Budd said.
Former and current residents and families who have been impacted by social and economic changes in the area are encouraged to participate. Alberta Main Street is also looking for stories about historically or personally significant events that happened on or impacted Alberta Street.
People are encouraged to share their input by contacting Kenya Budd via email at kenya@albertamainst.org or calling her at the Alberta Main Street offices at 503-683-3252, extension 2.
The deadline for the contest is on Dec.31. A selection of three storytellers is scheduled to be announced on Feb. 15. The cultural and historical markers will be placed on or along Alberta Street between Northeast10th through 31st Avenues. The anticipation is to have the markers up by this coming summer.
There are a few other ways to enter the contest: Application forms can be found on the Alberta Main Street website at albertamainst.org or you can also pick forms up in person at group's offices at 1722 N.E. Alberta St.