In Loving Memory
Lydia Ruth Roy
12/13/2016, 5:36 p.m.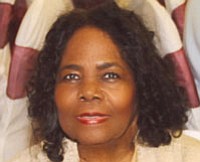 A memorial service for Lydia Ruth Roy will be held Saturday, Dec. 17 at 10 a.m. at Maranatha Church in northeast Portland.
Named after her maternal grandmother, she was born on March 23, 1936 in Rusk, Texas, to the parents of Robert and Lavada Williams. The family moved to Tyler, Texas where Lydia completed elementary school and graduated from Emmett J. Scott High School in 1954 where she was a majorette. She was deeply grounded in her faith in God and joined the St. James CME Church at an early age. She studied Fine Arts at the University of Texas and Texas College. In 1960, she married Linzy Roy, Jr., moved to Oklahoma City and later relocated to Portland in 1965. Though Lydia had no children of her own, she deeply loved her step-son, Michael. Upon her arrival in Portland, she joined the First Methodist Church. She worked at Emanuel Hospital as a nurse's aide for several years before being hired as a teacher's assistant at Humboldt School. After completing her BA Degree in Elementary Education, she taught third grade at Eliot School. While working as a Title I reading teacher at Boise-Eliot School, she earned her MA Degree from Oregon State University. She retired from PPS after 27 years of service.
In 1992, Lydia received a Women of Excellence Award from Delta Sigma Theta Sorority, Inc., Portland Alumnae Chapter. In 1998, Housing Our Families dedicated the Lydia Roy Court located at 3954 N. Haight St. and 705 N. Fremont St. in her name in honor of her life-long achievements in educating youth and for her service to the community. She was a past member of the Rho Chapter, Oregon Alpha Delta Kappa, International Honorary Sorority for Women Educators. She was a Golden Life member of Delta Sigma Theta. In addition to serving on various organizational committees, she assumed leadership positions in the Portland chapter of The Links, Inc. as the chair of National Trends & Services, The Arts, and International Trends & Services Committees and was Historian/Archivist.
Lydia Ruth Roy leaves to celebrate her life, husband, Linzy; sister, Myrna Yvonne Williams; sister, Linda Harris (Robert Nickerson); step-son, Michael Roy (Sharon) of Texas; granddaughter, Carmen Roy, grandson, Steven Roy, nephews Nathan Jay Nickerson (Chere'); and Darryl Nickerson; cousin, Harovel Grays Wheat (Danny) of Texas; cousin, Danelle Grays Mashia (Delroy), Devin Mashia, grandniece (Nia) and grandnephews (Jaylen & Nathan Noah); cousins and a host of extended family and friends.
We all have joyous memories of the years Lydia shared our lives and we will miss the essence of who she was.