A Refusal to Cave and a Right to Assert
New film depicts woman in a fight for her home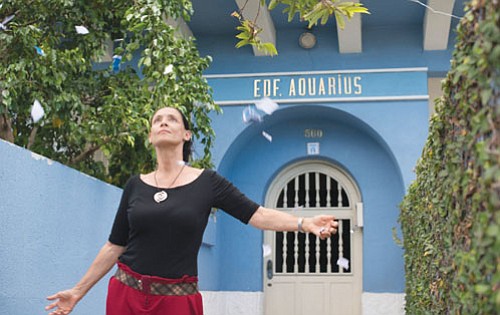 It's worth noticing that Clara never once calls on the authorities. She knows better. She knows where the power really is. Though her refusal to cave worries and exasperates her children (whom the developer also approaches, to her fury), Clara is not foolish, or deluded. She understands what is happening. She simply insists on acting in a way that asserts her own wishes, her own agency, her existence. Reacting to that requires the powerful to behave in ugly ways in order to maintain the upper hand, so they do.
The film's debut at the Cannes Film Festival happened to coincide with the ouster of Brazil's duly-elected progressive female president, by business interests. The cast and director at Cannes protested those events as a coup, apparently reflecting deep divisions in Brazilian society. Braga and the film's brilliant writer and director, Kleber Mendonça Filho, have spoken and written about the parallels between Clara and the Brazilian president, each being ousted from their homes. The tactics used by the developers in the film also feel like a metaphor for how economic power is sometimes exercised. Meanwhile, an opening section of the film grounds Clara's attachment to the apartment in her personal and family history, a very different lens for making decisions about one's home.
The film's fall release in the U.S. now feels particularly resonant. The Brazil of this film has no heroes; Clara and her family are privileged and have benefited from their privilege in ways that they can't always see. We see the echoes of those power imbalances, too, and of the limited means the poor have for asserting their interests. There are some particularly poignant, though understated scenes involving Clara's housekeeper, whose young son was killed by a drunk driver and who reaches for ways to insist on recognizing his memory in the face of unredressed injustice. Yet the film also contains some wisdom regarding how those without power can be and often are held to a standard of behavior that the powerful need only pretend to uphold.

Filho, Braga, and a uniformly excellent cast have assembled a canny film that has the power to stay with you for a long time -- not so much because of its plot but because of the time it takes with the perspective of someone who simply insists on standing up for what she actually thinks and wants, refusing to adjust who she is and what she wants to where the wind is clearly blowing. The film's resonance is both particular to this one woman, and to the heat of the exchanges her resistance provokes. In the end, though she is sometimes angry, she is not primarily so. And she is only crazy in the eyes of those who can insist on a reality that does not really include her as herself.
Darleen Ortega is a judge on the Oregon Court of Appeals and the first woman of color to serve in that capacity. Her movie review column Opinionated Judge appears regularly in The Portland Observer. Find her movie blog at opinionatedjudge.blogspot.com.