Staying Put
Building a community on a controversial homeless site
Zachary Senn | 12/13/2016, 5:57 p.m.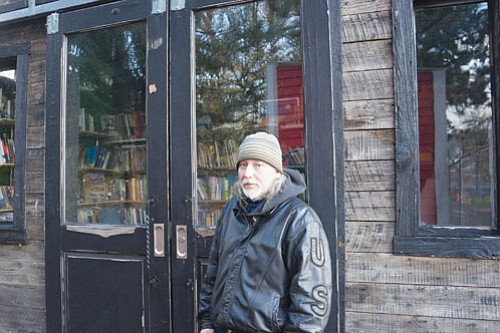 Just beneath North Interstate Avenue's rapidly redeveloping landscape lies one of Portland's most innovative encampments for people experiencing homelessness.
Hazelnut Grove took root one year ago as a direct result of City Hall's declaration of a State of Emergency in dealing with homelessness in Portland which saw a relaxation of policies that are often construed as criminalizing homelessness. The camp was supposed to be temporarily, but it has persevered through the occasionally volatile political climate and a host of other obstacles.
The Overlook Neighborhood Association, which advocates for the surrounding neighborhood, has called on Portland Mayor Charlie Hales to honor his commitment to relocate the camp before his term ends later this month. But in the likelihood that won't happen and Hales making no such pronouncements, Hazelnut Grove residents continue to take actions to enhance their community for the long run.
In addition to providing sleeping pods for its residents, Hazelnut Grove has developed the hallmarks of a thriving community: a communal and well-decorated gazebo area, a cook-tent filled with propane grills, and a library. Solar panels dot the camp.
Hazelnut Grove resident Joe Bennie, a 48-year-old veteran who also serves on the board of directors of the 501(c)(3) nonprofit organization that has been set up in support of the community, speaks optimistically about future plans for outfitting the camp with more renewable energy sources and rainwater filtration systems.
Bennie explains that the homeless camp's library, which began as a pallet filled with books inside of a tent, was one of the community's first solid structures: "This is really important… if you're not educated, you're not going to figure your way out of this thing."
He takes issue with the neighborhood association's continued opposition and cites friendships that have been made with nearby residents who have visited the camp who have brought in donations of vital supplies and building materials.
In a description that harkens back to Oregon's pioneering days, he brings up how campers have hewn their dwellings from whatever materials they can locate, developed a communal garden, and utilized their pets to conquer pest infestations. The housing structures, or 'sleeping pods,' are produced in partnership with The Village Coalition, which is a collection of area nonprofits that are collectively aiming to tackle Portland's crisis of homelessness.
Answering concerns regarding the camp's safety, Bennie explains that fire marshals have inspected the camp, which includes two rows of neat tiny houses in addition to a spattering of tents and other, more makeshift structures. In addition, he states that there is frequent dialogue between the campers present at Hazelnut Grove and City Hall, and that the community is "self-policing."
Despite claims that the community's structures are "semi-permanent," Bennie asserts that, "the construction is done so that you can stick a forklift right under them… If we ever have to go somewhere, we can." He said the group is open to the possibility of relocation, "we'll move as a community," but adds that, "the city, to my knowledge, has no clue where they want to move anybody."
The camp leader says he can sympathize with people who are upset over the community's continued presence, but adds, "this piece of land was not being used for anything but a drainage ditch… We have improved this space in the year that we've been here."
Bennie says the Hazelnut Grove governs itself under a village model that has helped transition dozens of vulnerable people into safer living conditions, and even permanent housing, and is confident in the model they are using will grow more broadly in the Portland area.
"Our vision is going to remain the same, and it's not a bad vision. It's a good vision for a lot of people… It's even a good vision for the Overlook Neighborhood Association," he says.
Speaking in regards to the community's future relationship with City Hall, Bennie is hopeful that the incoming administration of Mayor-Elect Ted Wheeler will allow for the opportunity to further develop their ties. "He's camped right here previously, so he knows us, and he wants better for us."