Constructing Hope in the Trades
Apprenticeships power carrers
Christa McIntrye | 12/14/2016, 11:58 a.m.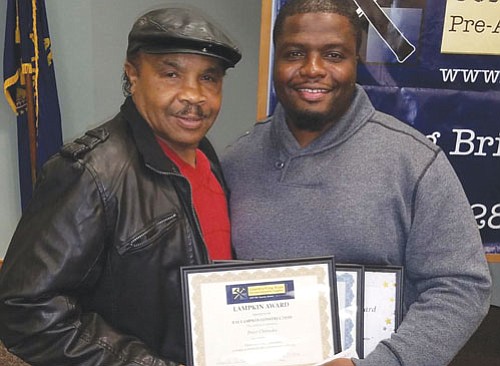 A local man enrolled in a pre-apprenticeship jobs program has earned an award named in honor of retired Portland boxer and current construction business operator Ray Lampkin.
Student Peter Chimuku graduated from Constructing Hope where he had a perfect attendance record and earned the Ray Lampkin Award which has been awarded to three African American men each year since 2014. Chimuku has applied for membership in the IBEW Local 48 Union for journeyman and apprentice electricians.
"Lightning Ray" Lampkin is a retired professional lightweight boxer who finished his career with a total of 35 wins, 18 by knock outs. He won the North American Boxing Federation Lightweight Title in 1974 over champion Nick Alfaro and defended the title twice in 1975. He has owned Lampkin General Contractor in Portland for the past 15 years and was inducted into the Oregon Sports Hall of Fame in 2002.
As a longtime leader at Constructing Hope, Lampkin encourages members of the black community to look for job opportunities in the construction business. The Constructing Hope program provides young men and women skills to begin a career in a trade's apprenticeships, and to empower these individuals to make a clean start as productive, self-sufficient members of the community. For more information, call 503-281-1234 or visit online at constructinghope.org.