Willie Taggart Era Begins
Oregon's new coach aims for a championship
12/14/2016, 11:53 a.m.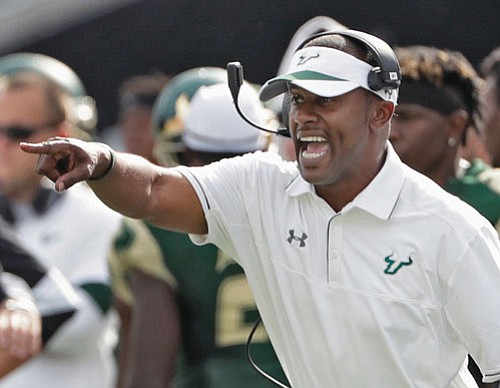 Willie Taggart, the new coach for the Oregon Ducks, says he has a goal to become the first black coach to win a national college football championship.
Last week, Oregon hired Taggart, the head coach at South Florida, to take over the Ducks following the dismissal of Mark Helfrich. Taggart led USF to an 18-7 record over the last two seasons, including a 10-2 mark this year. He also spent three seasons as coach of Western Kentucky, his alma mater, and was an assistant coach at Stanford.
"Oregon has a strong national presence and a proud recent history of playing among the nation's elite, and I look forward to the challenge of upholding the excellence," Taggart said in a statement. "I can't wait to get started."
Taggart, 40, is the first coach Oregon has hired from outside the program since 1976 and the first black football coach in school history. The Ducks' previous three coaches, Mike Bellotti, Chip Kelly and Helfrich, were all assistants who were promoted.
Oregon's new coach had support from former NFL player and broadcaster Tony Dungy, whose son Eric played at USF in 2014 after transferring from Oregon.
Taggart served as running backs coach for Jim Harbaugh at Stanford from 2007-09 and is credited with helping to recruit Andrew Luck. Harbaugh had recruited Taggart, a quarterback, to play at Western Kentucky under father Jack Harbaugh from 1995-98.
Just two seasons ago, Oregon went to the first College Football Playoff championship game, led by Heisman Trophy-winning quarterback Marcus Mariota. But the Ducks struggled this season with a five-game losing streak — the program's longest since 1996 — and finished at the bottom of the Pac-12 North with just two conference wins.
Associated Press contributed to this story.