Drawing on Experience
Officers of color ground new PSU police force
Christa McIntrye | 12/21/2016, 11:36 a.m.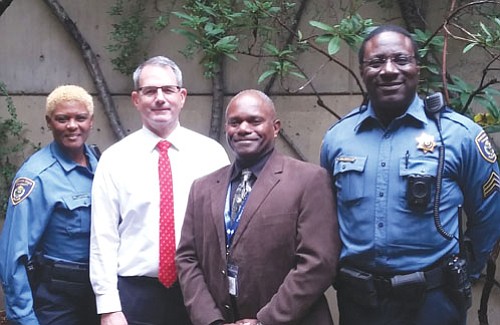 Two seasoned African American police officers from the city of Portland have been added to a controversial new Portland State University police force, joining an already diverse team. Five of the 12 officers now overseeing campus security are people of color.
PSU's recent decision to hire veteran Officers Marci Jackson and Vince Elmore continues an effort by school administrators to bridge the concerns of students, faculty and staff while meeting the safety needs of its campus population.
The downtown school is the most recent in the state to create a dedicated police force. But the patrol of armed officers on the campus has drawn the opposition of many people in the PSU community and other advocates for civil rights across the city.
Jackson, a retired police officer from Portland's black community has demonstrated outreach skills working with diverse neighborhoods. She headed the Portland Police Bureau's Crisis Response Team which worked to comfort victims and their families while trying to ease tensions at crime scenes.
Jackson has been instrumental in supporting "Enough is Enough," a grassroots advocate organization for restorative justice and changing the culture of silence about crime. With 23 years of police experience, she also helped recruit officers for the Portland Police Bureau, especially with people of color.
She believes more people with backgrounds in criminal justice and sociology are needed in Portland and on police forces nationwide.
Jackson also has experience working in schools. She was a former school resource officer at Grant High School in northeast Portland. Her youngest son is about to graduate from PSU.
"Portland State University has a very excellent safety team, very capable," she says, describing the challenges of working with students and staff to build trust. "There's an opportunity to bridge. I believe I'm a connector, a bridger. I help bring understanding. I am who I am. I treat people fairly, with dignity, and respect at all times. Most young people are supportive, some scowl. I can't change their hearts. I give them the same smile every day. We're coming in very ginger, not blockbuster."
Elmore worked for the Portland Police Bureau for 26 years before joining the PSU force. An African American who came of age in the South during the Civil Rights movement, he says he understands where groups like Black Lives Matter and Don't Shoot Portland are coming from. Elmore has supervised police officers during protests. He believes in the role of the officers, but also thinks that conversations between the people behind the uniform and citizens are important.
After a report issued in 2013 revealed the need for more security measures on the PSU, faculty, students and civil rights groups were vocal in their opposition against having armed officers on patrol. The fierce objection came in the wake of Michael Brown's death in 2014 and Portland's own history of police shootings.
Portland State students of color worried about the impact of having deputized officers placed in their learning environment with the potential for police profiling.
Also raising tensions on campus has been the racism elevated during Donald Trump's campaign for president and unleashed even more since his election in November