Equity Pledge at TriMet
Study finds racial disparities, but no bias
Christa McIntrye | 12/21/2016, 11:33 a.m.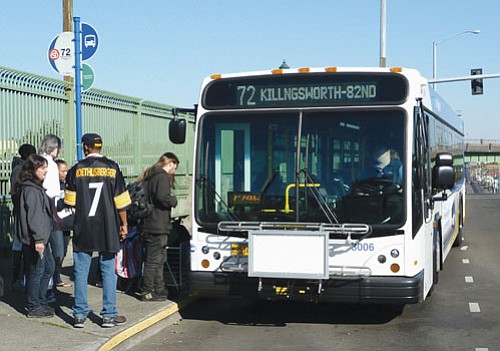 A new study showing racial disparities in fare enforcement at TriMet but no racial bias will lead to new efforts to improve equity practices at the transportation agency.

After community concerns were raised that fare enforcement actions were uneven across races and ethnicities, an independent third party investigation was commissioned by TriMet and the results were released last week.
Conducted by Brian C. Renauer and the Criminal Justice Police Research Institute at Portland State University, the study found no evidence of systemic racial bias, officials said, but found a growing percentage of riders who avoid paying fares, mostly on TriMet's MAX light rail lines, from about 10 percent two years ago to about 14 percent today.
The group with the highest percentage of riders and fare evasion incidents was white. But fare evasion and repeat fare evasion for black riders was at a higher percentage rate than other groups. African Americans were also more likely to receive harsher penalties for not paying fares, including a higher number of exclusions which ban riders for up to 90 days from riding the MAX.
Members of the black community were also more likely to receive harsher penalties from law enforcement than TriMet fare enforcement. Overall, the numbers are significantly low, but Renauer recommends in his report: "In particular, future research should explore economic, health and other hardship factors that may trigger repeat violations."

TriMet officials say they will be exploring a number of initiatives with the intent of getting riders to pay their fares, instead of putting them in the judicial system. Some of these options include looking into the feasibility of a new regional Low Income Fare program, evaluating community service options instead of the payment of fines, increasing TriMet fare enforcement staff, and giving TriMet staff more training on de-escalation techniques, cultural competency and understanding mental health issues.
"With the findings of our in-depth evaluation into past fare enforcement practices and with the new initiatives underway, I am confident we will continue to ensure TriMet's fare enforcement efforts are both effective and as fair as possible for all of our riders," said Doug Kelsey, TriMet chief operating officer.