Counting on a Miracle
McCoy Academy faces closure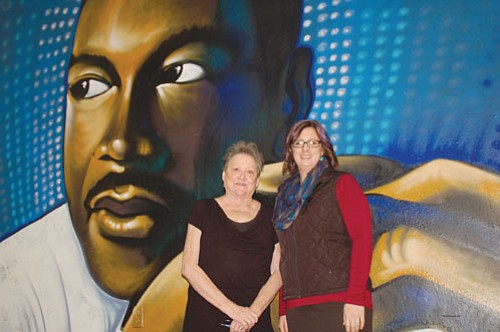 McCoy Academy, a non-profit private high school serving underserved students in Portland for more than a generation is facing closure. The landmark 110-year-old house converted into a school on Northeast Martin Luther King Jr. Boulevard where McCoy is headquartered was recently sold to make way for condominiums.
The construction plans by new owners of the building have placed the school in jeopardy, according to school leaders. A desperate fundraising campaign to help save the school has been launched. An estimated $50,000 will be needed for McCoy to pay for a lease on a new building and another $4,278 to pay off the outstanding debt on its current site.
Named after the late Gladys McCoy, a former Multnomah County chairperson, school board member, and the first African American elected to public office in Oregon, McCoy Academy has been a community fixture since 1988, providing a safe space where disadvantaged students are given the opportunity to graduate from high school or get a GED.
Many of its students face considerable challenges: Criminal backgrounds, gang ties, substance and alcohol abuse, anxiety, teen pregnancy and homelessness. They come to McCoy with holes in their education and unstable family lives. They often have behavioral issues after facing problems as children. Many of the students have been expelled from other schools or have had a difficult time functioning in larger schools with multiple class rooms and teachers. McCoy students get one-on-one support and someone to listen, to trust and believe in their potential.
Without a building, the 15 students currently enrolled in the school will have few options, and according to McCoy Academy Director and Founder Becky Black, will face the likely prospect of not finishing their education. There's an even longer waiting list of students who would like to attend the school
McCoy operates under an umbrella organization called Oregon Outreach and has other branches in Molalla, Scappoose, Vernonia and Rainier. But, the Portland site is special to the students, neighbors and the black community.
A longtime sanctuary from gang violence and one of the first drug free zone in Portland, McCoy Academy started off as the first charter school in Portland in response to the city's first gang-related shooting at Columbia Villa. The academy has one of the longest histories of serving children in Portland who face economic, employment and social hurdles by giving them access to an accredited academic program, mental health services, drug and alcohol counseling and resources towards planning for college.
Many McCoy graduates are the first in their family to get a high school diploma. Most of them go onto community college, Portland State University or join the military.
"What's beautiful about our program is we work in such a small setting with the students for multiple hours a day. We get to really know the student. We get to know what's going on in their life and at home," said Katie Carpenter, McCoy's director of program development and educator.
The King Neighborhood Association would like to save the building from the wrecking crew, but it's not very likely they can stop another giant box of condominiums as a replacement, adding to the explosion of other developments in gentrifying Portland.