Sanctuary County
Board on notice for welcoming immigrants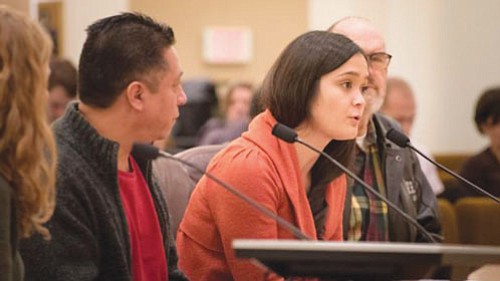 Multnomah County has reaffirmed its commitment to serving all residents regardless of immigration status by passing a resolution making it an official 'sanctuary county.'
Joining hundreds of other counties, cities and states across the nation, the county board voted unanimously Thursday to adopt a sanctuary resolution meant to build trust with immigrants by assuring them that the use of county services like health clinics, libraries and other services will not be used against them in the enforcement of federal immigration laws.
President-elect Donald Trump joining hardline Republican lawmakers in Congress are threatening to pull federal funding from any county, city and state which adopts similar measures. The President has the power to divert funding, but it would take measures passed by Congress to cut off federal funding to states, cities and counties, officials said.
Commissioner Loretta Smith, commented: "I have no idea what the repercussions are, but when you are standing for the right thing, and to do the good thing for your community, you always are on the right side of policy, and politics, as well."
There is no precise legal definition of "sanctuary," but it has its roots in Jewish, Christian and Common Law. The United States' Sanctuary Movement began in the early 1980's as an interfaith movement and was based upon the 19th century Quaker safe houses that helped many slaves escaped to freedom on the Underground Railroad.
The entire state of Oregon is a "sanctuary" state. Oregon law provides that, "No law enforcement agency of the State of Oregon or of any political subdivision of the state shall use agency moneys, equipment or personnel for the purpose of detecting or apprehending persons whose only violation of law is that they are persons of foreign citizenship present in the United States in violation of federal immigration laws." The law means that local police can't ask for documentation to verify the immigration status of a person that has not been arrested and they cannot arrest someone solely because they are in violation of immigration laws.
Incoming Portland Mayor Ted Wheeler supported the sanctuary movement in his campaign for mayor and after Trump's election in November.
"We will always see ourselves as a sanctuary city, and we will continue to be welcoming to everyone," he said. "President-Elect Donald Trump will be the president of all of America, and that requires an understanding of the values that drive Portland and other cities. These are our values.