50 Years of Black History
From Black Power to the White House
2/2/2016, 4:50 p.m.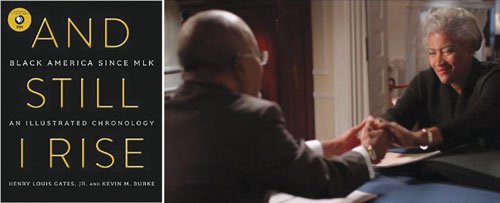 A gorgeous new collection of black American history has arrived for civil rights readers thanks to the tireless work of scholar Henry Louis Gates, Jr. and Kevin M. Burke.
"And Still I Rise: From Black Power to the White House," serves as a companion piece to Henry Louis Gates Jr.'s PBS series, "And Still I Rise"—a timeline and chronicle of the past 50 years of black history in the U.S. with more than 350 photos.
Beginning with the assassination of Malcolm X in 1965, the 2015 book explores the last half-century of the African American experience. More than 50 years after the passage of the Civil Rights Act and the birth of Black Power, the United States has both a black president and black CEOs running Fortune 500 companies—and a large black underclass beset by persistent poverty, inadequate education, and an epidemic of incarceration. Gates, a Harvard professor and scholar, raises disturbing and vital questions about this dichotomy. How did the African American community end up encompassing such profound contradictions? And what will "the black community" mean tomorrow?
Gates takes readers through the major historical events and untold stories of the years that have irrevocably shaped both the African American experience and the nation as a whole, from the explosive social and political changes of the 1960s, into the 1970s and 1980s—eras characterized by both prosperity and neglect—through the turn of the century to today, taking measure of such racial flashpoints as the Tawana Brawley case, OJ Simpson's murder trial, the murders of Amadou Diallo and Trayvon Martin, and debates around the NYPD's "stop and frisk" policies.
Even as it surveys the political and social evolution of black America, And Still I Rise is also a celebration of the accomplishments of black artists, musicians, writers, comedians, and thinkers who have helped to define American popular culture and to change our world.