Black Lives Matter
Movement founders to speak at PSU
2/2/2016, 4:33 p.m.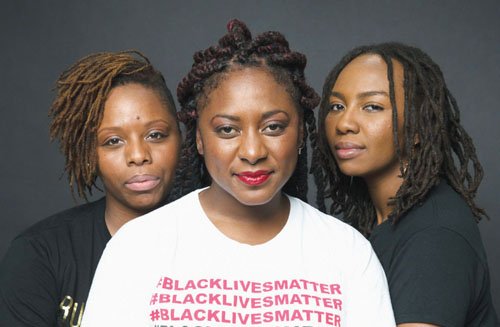 Portland State University is bringing the founders of one of the largest national anti-racist movements in recent history to speak to the community.
Alicia Garza and Opal Tometi of Black Lives Matter will speak at Portland State University on Tuesday, Feb. 16 at 7 p.m. as part of Black History Month and the school's "Living the Legacy" series honoring the memory of the Rev. Dr. Martin Luther King Jr.
Garza, Tometi and Patrisse Cullors created the #BlackLivesMatter hashtag on Twitter in 2013 in response to the acquittal of George Zimmerman in the Florida shooting death of Trayvon Martin. Spurred by the police shooting death of Michael Brown in Missouri and other deaths of black people, Black Lives Matter has emerged as an international movement promoting social justice and civil rights and condemning racial violence.

"It is an honor and a privilege to have the founders share their vision of justice for all with our students and broader Portland and regional community," says Dr. Carmen Suarez, PSU vice president of the office of Global Diversity and Inclusion. "Their work in engaging audiences in discussions about race relations in America is courageous and born from the pain, frustration and anger over the ongoing state violence, police brutality and social injustice plaguing our country. They also teach us how their activism became the national movement it is today, and how we must all take action to combat the systemic and institutionalized racism from which these virulent plagues of violence and injustice stem."
Black Lives Matter has grown to more than 25 chapters across the nation – including a Portland chapter – that organizes rallies and other events. The group relies on local chapters to focus on issues such as police brutality, racial profiling and inequities in the criminal justice system.



Garza is an Oakland-based activist and director of special projects for the National Domestic Workers Alliance. She previously served as executive director of People Organized to Win Employment Rights and has won various honors, including two Harvey Milk Democratic Club Community Activist awards.
Tometi of Brooklyn, N.Y. is the child of Nigerian immigrants and a longtime advocate for immigration rights and racial justice. She is executive director of the Black Alliance for Just Immigration and has presented at the United Nations' Global Forum on Migration and participated in the UN Commission on the Status of Women.
Cullors, a former Fulbright scholar, is a former community organizer in Los Angeles, where she co-founded the watchdog group, Dignity and Power Now, which successfully advocated for civilian oversight of the Los Angeles Sheriff's Office. Cullors is unable to attend the Portland event.
While tickets are sold out to the live speaking engagement, the university will be live-streaming the talk to the PSU Smith Memorial Student Union to accommodate more attendees. Overflow tickets are free and can be requested by contacting the university's box office at 503-725-3307 or by visiting pdx.edu/boxoffice.tickets.